In 2019 I sold one of my apartments in Florida & looked at what the cheapest way to send money back to invest in my pension fund would be.
Orlando May 2019.
Due to the American banking system & telephone networks, it worked out cheaper to fly out to Florida for a two week holiday & to go into my bank in person to make the transfer. This is the story of my trip to Orlando in Florida in 2019.
Travel from Los Alcazares to Copenhagen.
When looking for flights I decided to fly from Alicante to Copenhagen in Denmark & from Copenhagen on to Orlando. This was done mainly due to the fact that if I had gone via London it would mean having a huge nine-hour delay at Gatwick on the return trip to get my connection to Alicante, the Copenhagen option, all though a longer flight, meant a shorter wait for a connection & got me back to Alicante at an early time which would make getting a lift to & from the airport easier.
I left Los Alcazares very early in the morning with my friend Mike giving me a lift to Alicante airport. I checked in with Norwegian airlines, everything was quick & I was soon through airport security looking for something to eat.
The first thing that struck me on walking through the airport restaurants in the departure lounge was the number of drunken messy Brits there were in the airport. It was almost impossible for people wanting to get something to eat to get a seat in the restaurants because of the number of Brits fast asleep either across a table or because they were moving furniture around so the whole stag/hen party could sit together. It also seemed that the drunken state that most of them still appeared to be in was affecting their eyesight, none of them could pick up their rubbish & put it in a bin. This caused a back of people waiting to get a seat to eat their meal.
The second thing was how terrible the burger that I just gave my right arm for in whichever burger chain I used, actually was. It was dry & tasteless, the burger in the picture looked fantastic but it bore no resemblance to the one that I waited nearly 30 minutes for them to produce. Thirdly was how expensive the aforesaid cardboard burger and soft drink was. I paid over thirteen euros for a burger & a sprite, I can get a fantastic three or four-course meal for the same money in Los Alcazares.

Anyway, the Norwegian airlines plane was on time & I enjoyed my flight to Copenhagen. This photo was taken as we flew over Entrevennes in France, at least that is what the GPS coordinates added by my phone & translated by Google tell me.
Copenhagen, Denmark airport.
The airport was much larger than I was expecting & I decided to look for my gate for the connecting flight to Orlando. After what seemed a long walk through various bars, restaurants & shopping areas I found my gate. Now happy that I knew where to go I had an hour to kill so went for a pint. It was at this point that I realised my mistake in assuming that Denmark was part of the Euro Zone. Whilst looking at the price for a pint I thought I was reading prices wrong, a pint of Carlsberg lager was marked at 69. I couldn't believe a pint was 69 euros and when I asked the barman he explained that it was 69 Danish Kroner. He told me that he could take Euros but could only give change in Kroner when I checked my change I discovered that my pint had cost me just under 10 euros, probably the most expensive pint I have ever purchased in a Danish airport.
Once again the plane was on time & I enjoyed my Norwegian airlines' flight to Orlando. Norwegian airlines use the Dream liner aircraft & they are very nice, comfortable with nice food & it was worth the upgrade to get extra legroom.
Orlando airport arrival.
We arrived on time in Orlando but because of the late hour the wait to get through immigration was short & I was through very quickly. Unfortunately, the wait for the shuttle I booked to take me to my apartment on International Drive wasn't straightforward. The lady at the other end of the phone sent me to the wrong area to be picked up & I had to call again when I found the correct airport pick up spot, the driver seemed to get lost as we went on a very circuitous route to the place I was staying. This was very strange as it was pre-paid so it didn't matter how long the journey was, or took, he wasn't going to get any more money, all it did was make me forget his tip.
Enclave Apartment.
I booked into these apartments for 4 days whilst I waited for my friend Martin to arrive in Orlando when I would then switch to the hotel he had already booked. The apartment was just off of International Drive on Carrier Drive. The apartments are quite old & the general areas inside are quite worn & are in need of renewal. The apartment I was in had work done on it by the owner that was very substandard.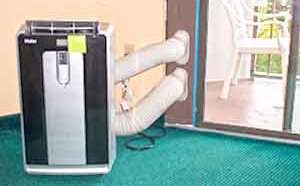 The air conditioning unit had broken down at some point & instead of getting a repair made a new portable air conditioning unit had been fitted. As there was no suitable outside wall for it to be fitted to, the owner of the apartment had jammed a plank of wood in the opening of the patio door & fitted the air conditioning unit to the plank in the door frame. This meant that the patio door could not be closed properly & to keep it closed a piece of wood had to be jammed behind the sliding door to stop it from opening.
The bed in the apartment was old & the mattress was very uncomfortable, a new bed really needs to be put in. I was only here for four days so I put up with it but I wouldn't stay here again or recommend it to anyone else.
Bank of America.
The reason for my visit was to go to my bank to transfer some money to my Spanish account & my sister in England. I made an appointment online & walked to the bank one morning to make the transfer. The lady I saw in the branch was very good, very helpful & was good enough to make me change my mind about moving my account to another bank. In around 15 minutes she had made both transfers that I wanted to make & confirmed that the money had gone. She was also able to help me with questions about my debit & credit cards.
By flying to America & going into the bank to make the transfers, I saved myself $2230 enough to pay for my trip to America. Why can't banking institutes be more reasonable with the charges they make to wire money.
Rosen Inn International.
After leaving the apartment I had booked in to I joined my friend Martin at his hotel on International Drive. This was a nice hotel & the room was next to the pool, which I loved as I could get up in the morning, go for a swim & then just relax reading my kindle.
The location of the hotel was great for getting to nearby shops, restaurants & bars & for $12 I purchased a weeks bus pass which allowed me to travel around without having to hire a car.
Tom Jones in Concert.
I have seen Tom Jones about half a dozen times now & when I saw he was in Orlando whilst I was there I booked up to see him. The show was in downtown Orlando at the Dr Phillips Center. The Walt Disney Theater in the Dr Phillips Center, where the show was held, was very nice & I had a great seat in the front row of the balcony. Tom's voice is still very good & I do like the way he puts a new twist to some of his old hits by rearranging the music depending on where he is playing. The show was great & I do enjoy his stories & jokes with his audience, all in all, it was a great evening.
Sea World.
My friend Roger, who was my realtor on a couple of property purchases & sales, rang me & asked if I wanted to meet up for a chat & a beer. I agreed & he picked me up from the hotel & we first went for some breakfast & a coffee. It turned out that he had started working for Sea World at the new Aquatica water park as a lifeguard & because of this he could get me into Sea World for nothing.
We spent a few hours walking around looking at some of the exhibits & just catching up. We arranged to go out again the following day but he sent me a message that evening telling me that he had to take some clients to view some more houses. He was sorry he couldn't meet up with me but he did, however, attach another free pass to Sea World so that I could spend a whole day there for free.
The next morning, I used my bus pass to get to the park at opening time and spent the day wandering around looking at the exhibits & watching the shows. Unfortunately to leave my camera in a locker on a roller coaster ride was $10 a time & as I had been on them all before & wasn't willing to pay out around $60 for a locker. I am lucky that I have been to Sea World lots of times & have been on all of the rides & I feel that $10 for a two-hour locker rental is very excessive especially as the queue for rides was around 90 minutes.
I always love watching the dolphins & am always in awe of the killer whales speed & agility. I think the funniest thing at all the shows is people filling up the seats that are all marked as the splash zone. There are notices up telling you that you will get wet, possibly soaked, as well as announcements from staff warning that the water is salty & cold. Then as soon as the whales, dolphins, seals or Walrus start splashing the people in the 'Splash Zones' many of them get up & move.
The long journey home.
When I arrived at the airport I discovered my flight had been cancelled due to an engine failure. The staff at the airport were overwhelmed by angry passengers & normally I would feel sorry for them but they were absolutely hopeless. They could give us no information other than to tell us to go away & to come back tomorrow. After a few hours, they started to hand out sheets of paper with the name of a hotel for us to stay in & a document telling us to phone a number to arrange to rebook another flight. It also informed us what we could claim back for the cancelled flight & how to do it.
I paid for a shuttle to the hotel they had written on the piece of paper they had shoved in my hand, keeping the receipt. I was quite pleased to find the hotel was one of the best in Orlando & that they were expecting people from the airline. Unfortunately, the restaurant had closed by the time I arrived so I walked to Pizza Hut for something to eat.
When I got back to the hotel I rang the number I had been given to rearrange a new flight. I was on hold for over an hour & by 1:30 am I gave up & went to sleep. At 3:00 am the room phone rang & it was Norwegian with details of two flights I could switch to or I could just cancel my flight & make my own way home. The first flight meant travelling under my own steam to New York to catch a flight to London then to Alicante the following day. This would have meant an expensive flight to get to New York or a two-day journey to get there by road & I refused this. She then told me the next flight meant me getting to Fort Lauderdale by 6:00 am to fly to Paris then return to Madrid from Paris. There is no way I could have got to Fort Lauderdale in time & I would have had to make my own way back from Madrid as well. I refused this flight & refused to cancel my return flight, telling them I would call back when I'd had some sleep.
The following morning I had breakfast & rang Norwegian airlines again. This time I accepted a flight but it would mean me travelling by coach to Tampa, staying there overnight, flying to Gatwick, London, waiting there for 9.5 hours & then finally getting my return to Alicante.
I got a taxi from the Hotel to the Greyhound coach station in Orlando. There I got a two-hour coach down to Tampa. From the coach station in Tampa, I got another taxi to a Tampa hotel where I checked in for the night. Up to this point, I had to pay out for 3 taxi journeys, 1 coach journey, 1 nights hotel, 2 meals. After a good nights sleep and breakfast, the next morning I got a shuttle to Tampa airport where I had to wait until around 9:00 pm for my flight to London. I added two more meals to the expenses I would have to claim back.
On the flight back to London I was sat in the worse possible seat on the plane. Whilst I was sitting there a man & a lady came down to the back of the plane & discovered their seats were not together. I offered to switch with one of them so they could sit together & they were very happy. Just after I had moved forward one seat, the air hostess asked if I would mind swapping again as two girls travelling together had been split up as well, the air hostess told me the girls seat I would swap with would give me more legroom so I swapped again. When I got to this seat a man was sitting in it, he had jumped in it as it had more legroom than his seat & was refusing to move. The air hostess called the head purser over, he took one look at me & informed me there was a spare seat in First Class I could have. At last a bit of a result.
The flight back was more comfortable than I was expecting but It was to London the place I had wanted to avoid the most. I now had a 9.5-hour wait for my flight to Alicante, this added another meal to my list of expenses to claim back.
The flight from Gatwick to Alicante was smooth & I landed on time. I waited for my luggage & after a long wait whilst nearly everyone else had collected their luggage the carousel came to a standstill, my luggage was nowhere to be seen. I realised the other lady still standing there had got on my flight in Tampa so I told her & we wondered if our luggage had got lost. We found someone to ask about our baggage. After we explained we had come from London but had begun our flight in Tampa he told us that our baggage was in the other baggage hall as we had to go through customs as we had started in the US. Why we hadn't been told this at any other stage I don't know. Sure enough, when we followed him through to another room there was our luggage. I grabbed my case & walked through customs, no one was there & I wondered why they had bothered to separate our luggage to go through customs if there were no customs officers anyway. Luckily, my mate, Mike was waiting there to take me home, after just over an hour I was home all be it 4 days late.
I got to bed around 3:00 am for a night of sleep before having to get up to go back to the airport to collect my friend Del who was arriving for a long weekend.
Cancelled Flight Claim.
The day after I got home I made my claim for expenses, this was for transport to & from hotels & airports, travel to get from Orlando to Tampa & for meals whilst stuck in Florida & at Gatwick. I also claimed compensation for my flight as it was over 3,500 miles. The claim was quite straight forward & within a week Norwegian Airlines gave me 960 euros compensation & I was happy to accept it.