This week begins in the Hotel Selu in Cordoba, Andalucia. I have gone for a short trip there to see the Patio Festival, where lots of households open up the courtyards of their homes to visitors to see their wonderful flower displays.
Alan Morris, 2022, week 19.
Monday, 9th May. I woke up early after going to bed early last night. I have a shower, get dressed & go down for breakfast. It is a buffet-style breakfast which is quite ordinary but there is plenty of it. I have a large breakfast as I don't know when I will be eating next. After a good breakfast, I head out around 10 am to look for some of the patio gardens.
I soon come across a homeless man playing the accordion, he is very good so I leave him a tip & take a photo. I carry on walking & soon find a patio to look around, I take some photos & leave looking for the next patio to look around. I walk through the winding streets of Cordoba & soon come across another patio to look around. This courtyard is different in that the home has three separate smaller courtyards to look at. It seems strange to walk through someone's home to get to an inner courtyard to look at their flowers. This home & gardens was beautiful I could see myself living here.
It takes me about half an hour to find another patio to look around but this one was not as big as the previous ones & I continue to look around Cordoba. There are plenty of parks with cool shade, water fountains & plenty of places to sit & recover from my exertions. By about 1 pm I haven't found any more patios to look around, I have found a map of where the patios are but don't know where I am on the map. I walk through a more run-down area & come out in a built-up industrial area near the river. Next to a busy roundabout, there is a beer tent, I sit down get a beer & rest as by now my feet & legs are aching.
I ask the man who serves me my beer where I am on the map I have. He studies it carefully & then tells me that I have walked clear off the edge of the map & that I am about 3 km away from where I want to be but he does point me in the right direction. I finish my beer, get my breath back, & then head off across the main road where I follow the river back towards the historical centre of Cordoba. By about 3 pm I have finally found my way back to the hotel, I am shattered & my legs are in a lot of pain so I go to bed for a few hours.
After my meal, I manage to get lost again for a short time. I found my way back & stopped at a nice ice cream parlour near the hotel. I ask for ice cream & water but they do not sell drinks. The lady serving me hands me my ice cream & then disappears, coming back quickly after, she has got me a lovely cool glass of water. I must have looked rougher than I felt. I finally got back to the hotel at about 9 pm. My feet ache, my legs are like concrete pillars & I am ready for bed. Before going to bed I massage some cream into my legs, I check how many steps I have done on my extended walk. It turns out there is a reason my feet & legs ache, after being very sedentary for 6 months, I have walked 16.5 km.
---
Tuesday, 10th May. I slept very well last night but am awake by 7 am. I have a shower & go down to the dining hall for my breakfast. After eating my fill at the breakfast buffet I return to my room for an hour or so before heading out to walk around the historic old town. I want to visit the Mosque of Cordoba or the Cathedral as it is now.
I make my way down through the cobbled streets to the Cathedral & purchase a ticket, for 11€, to enter & look around. Before going in I sit down to rest my feet & eat an apple in the courtyard of the Cathedral. When I have eaten my apple I go into the Cathedral. It is a fantastic building, the only one of its kind in the world. When the Mosque was taken over by the Catholics, instead of destroying it as normally happened, they kept it & built the Cathedral inside it. The stone arches inside are marvellous & it seems strange to see all of the Catholic relics, artwork & iconography now installed in the shell of a Mosque.
After leaving the Mosque I walk to the side of the complex where my friend Bernard had told me there was a really good restaurant that did a great Menu of the day. I sat outside the Casa Palacio Bandolero for a while just watching the world go by before heading in. I noticed several groups of people going in, only to come back out shortly after going in. I assumed they couldn't get a table as they were groups of around 10 to 12 people but I could hear people complaining about not being able to go in, one Dutch tour guide was telling his group that he would not take anyone there again.
As I was on my own, I decided they might be able to seat me, so I walked in. I found a table straight away & there were not that many people there. I sat waiting whilst the waiter served people around me but completely ignored me. After about half an hour he finally stopped & I asked for the menu of the day. He told me they didn't have it. When I queried this & asked if I could have the menu of the day again, I was told I couldn't because I wasn't Spanish before he quickly walked away & started to pour drinks at the bar. Im proud to say that instead of causing a scene I just left to find somewhere else to eat. Now I knew why lots of people of all different nationalities were walking in & coming back out again. If this waiter or barman is there through the summer the place will go bust.
I decide to go to the Mercado Victoria or Victorian market where I had eaten before. I had some tapas & a quick beer before going back to an ice cream parlour near the hotel for ice cream. After sitting in the sun for a while I went back to the hotel to sleep. This evening when I woke my legs were still very sore so I walked to a small cafe around the corner, got a couple of slices of pizza & ate them back in the hotel room before going to bed.
You can see the photos from my Cordoba trip here.
---
Wednesday, 11th May. I wake early feeling a bit better after a good night's sleep. I go down for breakfast in the dining room & as it is my last day I have Cava & orange juice with my breakfast, it is included with the buffet so why not. After breakfast I go back to my room, we only have a few hours before we leave & I don't want to do any more walking so I just relax in a warm bath before getting ready to leave.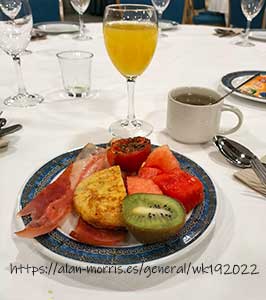 At 11:20 we all leave the hotel, walk around the corner where we are picked up by the coach & start our drive home. We stop off three times on the way back for comfort breaks & food. At around 6:15 pm I am dropped off at the Arches in Los Narejos. I was going to get a taxi back to my apartment but both the bars there are closed & I can't ring a taxi as my phone isn't working again. I begin to walk back pulling my case behind me but my legs are stiff & sore after the previous days of walking & from being stuck on the coach for so long. My cousin Jill lives not too far away so I stop there, she invites me to rest & gives me a cool beer, before then driving me the last 2km home in her car. Thank you, Jill.
Once again I have an early night. It´s nice to go away but it's always nice to sleep in your own bed in your own home.
---
Thursday, 12th May. I wake early, have a shower, & then go to the Avatel telephone store again. My telephone worked for about 4 days before stopping again whilst I was in Cordoba. The phone works but it is getting no signal again, the only way I can connect to the internet or make calls is by logging in to a free wifi connection. The girl in the shop takes my number from me & checks the number on the computer. Then she takes out my sim card & puts it in her phone, it works fine in her phone & she puts it back in mine. Amazingly it works fine again.
I get a few bits of shopping then go home, where I spend the rest of the day editing the photos I have taken in Cordoba & working on my website. This evening I intend to watch the Tottenham v Arsenal football match. At the start of the game, it was all Arsenal, but then, I´m not sure why, Tottenham got a penalty, & go one-nil in front. By half time Arsenal have had a man sent off & are another goal down.
I then sit with my laptop editing my website during the second half of the game. I get so caught up in what I am doing that I don't see Tottenham score the third goal & only look up to see the final result, Tottenham 3, Arsenal 0. A terrible result is made worse by several more injuries meaning Arsenal will struggle to field a strong defence in their last two remaining games.
I finally switch off my laptop & go to bed at about midnight.
---
Friday, 13th May. I pack up the parcels I have to return to Amazon this morning. A toilet seat that has the wrong fittings & two pairs of shorts that don't fit. I take them to the Correos on my disability scooter. I am disappointed when I get there to find that the only person working is the old dragon that delights in being difficult to anyone. I join the back of the queue, the lady in front of me, a Spanish lady, is having real problems with the dragon & she seems to be taking forever to do what the lady asks. Luckily for me, one of the nice ladies that work there comes out to help serve the people in the now growing queue, even better for me, I am first up & won't have to be seen by the dragon.
My parcels are soon checked in & sent back to Amazon. I leave Correos & then go to the pharmacy to get some more drugs. As well as my normal tablets I get a small bottle of alcohol rub, that a lady I sat next to at breakfast in Cordoba recommended for my leg. When I leave the pharmacy I stop off at a picture framing shop near where I live. A while ago I was given a large canvas of my favourite golfer, Tiger Woods, by a lady I know who didn't want it. Unfortunately, it had a warped frame & hung crooked on the wall. After being told by the girl who works in the shop that she would have to see it before she could tell me if they could carry out the repair, I go home, pick up the picture & take it back to the shop. Im delighted when she tells me it can be fixed, will cost around 20€ & can be picked back up next week.
I then go to my local supermarket for some milk before I head home & start working on my website & photos once again.
---
Saturday, 14th May. I am awake at about 6:45 this morning. I get myself a coffee before putting on some washing, I always do it at the weekend as the electricity is cheaper. When my clothes have finished, I then strip the linen from my bed ready to stick it in the washing machine.
At 10 am I walk to the town hall where I am leaving to go on a Cultural tour of Los Alcazares. I get there early so stop next door at the El Parrillero Grill house for a coffee & tostada. As I finish my breakfast the train pulls up & my friend Bob, who owns the train, gets off it & comes to talk to me. At 11 am I get on the back of the train & take the small tour.
The tour was run by the local town hall & after living here for a total of 10 years, I still found out a few things I didn't know. We stop off at a few places around the town where we are told about some of Los Alcazares history. After the tour, my friend Bob, the tour bus driver, gave me a lift home. Mid-afternoon Bob came back to my house with his barber's hat on & gave me a haircut, everyone needs a friend like Bob.
This evening I walked the short distance to the main road so that I could watch this year's Carnival parade go past. It did take a long time. Because of the slow speed they move at, it takes around 2 hours for a fairly small parade to go past. That said, it was very good & I got some great photos.
I was going to go out tonight but after all of today's excitement I have worn myself out & I instead collapse on the sofa & spend the night watching the Eurovision song contest. I think before it started everybody knew that Ukraine would win, purely because of the attack on them by that psychopath Vladimir Putin & the Russian war machine. It was great to see The UK entry, Sam Ryder's Space Man, get 2nd place, I think in another year it would have won it easily.
---
Sunday, 15th May. Today I woke early, settled at the computer & worked on my website all morning. At lunchtime, I set off for Roda on my disability scooter & went to Campbells bar for Sunday lunch. It is my favourite place to go for Sunday lunch & this week I had roast lamb with all the trimmings, it was beautiful.
On my way home from lunch, I stopped off at Aldis & got myself a small pot of my favourite ice cream, pecan flavour. Once home I settled on the sofa for a few hours, eating my ice cream & watching rubbish on the television.
This evening I walked to La Playa bar to listen to Diana sing. Unfortunately, she has been unwell & was unable to sing so after a swift pint I went home. I did learn that a friend of mine had been mugged this week. Two Spanish gipsies mugged him after asking him for a cigarette in the afternoon. On my way home I stopped at the chirringuito near me for a drink. I was having my drink & the lady that runs it was telling me that they had been broken into after only opening back up two days ago. They lost all the bottled spirits from the top shelf & a few other bits & pieces that were in the bar.
I have heard that the police have caught one person for robbery this week. I hope that they catch all of the dirty miserable bastards that prey on people, their homes & their workplaces. Lock them up in a crate, weigh it down & take it out to the Mediterranean Sea, & dump the crate over the side in deep water. Preferably filming it & posting it on social media as a warning to other potential dirty thieving bastards who think it is okay to do this.