This week I manage to start swimming more often, now that the weather is warming up I can get in the sea for my morning dip.
Alan Morris, 2022, week 21.
Monday, 23rd May. I woke up around 7 am today & have a pot of green, mango tea. My swollen leg has gone down quite considerably when I get up this morning & it is not giving me any pain. Hopefully, it will continue to remain pain-free & not swell up if I take it a bit easier this week. I work on adding a new photo gallery to my website until lunchtime when I am due at the office.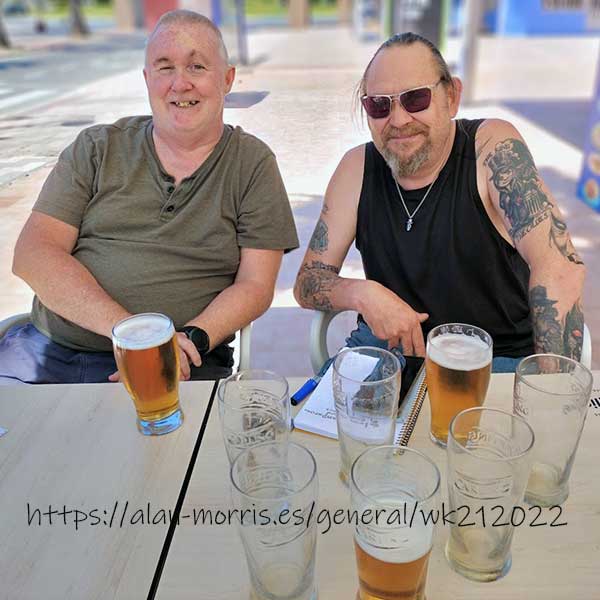 I arrive at the office a little late as I stopped to talk to my neighbours, Richard & Val as I set off on the Sharky mobile from my apartment. Luckily Martin didn't seem to notice I was a bit late but he soon cracked the whip, handing me some paperwork to take care of before I even sat down. I worked hard at the office, leaving at around 2 pm. I stopped off for some bread rolls on the way home & got myself two chicken thigh rolls for lunch when I got in.
The afternoon & evening was spent relaxing & doing some more work on my computer at home.
---
Tuesday, 24th May. This morning I woke early, got my pot of tea & started working on my website. At about 9 am I walk across to the Mar Menor & go swimming for about 90 minutes. I love wearing my snorkel mask now that the water is beginning to clear up again. The water is not as good as it was when I first lived in Los Alcazares some 17 years ago, but the distance I can see now is a lot better than last year, I hope it continues to clear. Whilst swimming I saw hermit crabs scuttling across the sand floor & lots of fish & jellyfish swimming around.
After my swim I return home, take a shower & then get some breakfast, before going back to work on my website. I got so carried away with what I was doing I lost track of the time & by the time I looked at my clock I was late for work in the office. I messaged the boss, telling him I would be late & then set off for work.
I arrived about 30 minutes late but I don´t think I will be docked any pay. Whilst sitting there with Martin & his dad, we were joined by Viv & Lesley. We all sat around chatting until the school bus with Martins´ daughter arrived. We then all went our separate ways. Later on, they are all going out for a meal at a local Indian restaurant. The restaurant they are going to isn't very big & is usually quite cramped, as my leg still aches & I don't want to sit for too long in a cramped position I decide to stay at home.
This evening I sit with my feet up watching television & editing more photos on my computer.
---
Wednesday, 25th, May. I went for my morning swim again this morning & really enjoyed it. The water is cool when you first get in, but your body soon gets used to it. I sit in the water up to my waist to start with, slowly allowing my body to get used to the cooler temperature before I plunge in & go swimming. There are a lot of heart attacks caused by people jumping into cold water every year. Being on a beach on my own with few passers-by & having a heart attack caused by jumping straight into cold water is something I can avoid, so I do.
For my lunch, I walk around to D´Pollo & get a takeaway meal. Today I have a chicken breast stuffed with ham & cheese, wrapped in bread crumbs & served with roasted green pepper & chips. It was very nice & at only €5.30 very good value for money.
After lunch, I clean out my robot hoover, Peggy. When I empty it I find a huge slither of broken glass that could easily have sliced through my bare feet. I had dropped a glass a few days ago, I thought I had cleared it all up, but I missed this bit because of my poor eyesight. I am glad the hoover picked it up & not my foot because I take blood thinners & it good of got messy quickly.
This evening I watch the Europa League football final. There are no English teams involved but 3 of the players have an Arsenal connection & I want to see how well they play. The game was not very interesting but I did manage to get a lot of work done on my website at the same time.
---
Thursday, 26th, May. I get up early this morning, there will be no early morning swim today as I have to get my blood test done. I go to the Doctors surgery at about 8:30 this morning & they can take my blood test at 10 am. From there I continue to the bank to get some money before going to The Alaska bar on the beachfront for breakfast of a coffee & a Tostado.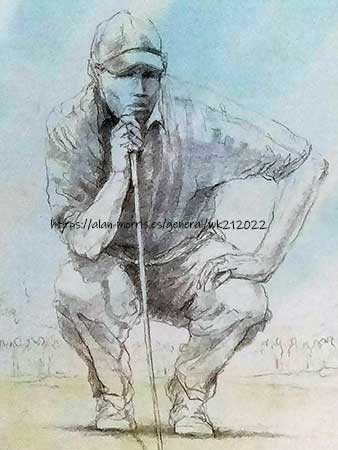 After breakfast, I return to the Doctor for my blood test. It is done quickly & I am then able to go to Toldos Crilosa Cristaleria to collect a picture that is being reframed for me. Last week when I collected it they had just restretched the canvas & not changed the frame & it hadn't been what I wanted. Today when I went back they changed the frame, & restretched the picture onto the new frame, it was perfect. When I asked about the cost they declined any payment telling me the €10 I paid last week was enough. What a great shop, what great service, I will be using this shop for any framing & if I need any mosquito nets for my apartment.
Just after arriving home & hanging my picture on the wall, I am contacted by the boss. He has called an extraordinary meeting at the office at lunchtime. I make the excuse that the Sharky mobile has a flat battery & I can't make it in, I am told to try harder & to ask the upper management for a lift to get into work but upper management is working at a different office so I get the day off.
Instead of working in the office today, I tidy my kitchen up, I am thinking of making a few changes to it. My oven has died & rather than buy an under the counter replacement for it, I am considering a smaller, on the counter oven. That way, I can use the space below, move some cabinets around, and replace some with open shelving. I get myself some beans on toast for lunch & sit reading my kindle.
Having tried a few different diets this year, that haven´t worked well, I have started on the Intermittent Fasting diet again. To make sure I know how to do it rather than guess I bought a book called ¨Fast. Feast. Repeat¨. After reading the book I realise that one of the things that I have been drinking during my fast period, flavoured tea, maybe a reason for the fast not working as well as I hoped. It is not so much that the tea is making me fatter but it is tricking my brain into thinking I am taking in food, this, in turn, produces insulin, which in turn stops my body from using fat reserves in my body.
The book is very interesting & worth a read if you want to lose weight.
---
Friday, 27th May. This morning, after realising the mistake I have been making with the intermittent dieting, I decided to step it up a bit, making sure I am doing what they call a clean fast. I also adjust the times of my fast, I found the 12:12 option fine & I am now going to do the 16:8 option. This means I will fast for 16 hours of the day & allow myself to eat during the remaining 8 hours. How hard can it be, hopefully, I will be asleep for a large portion of the fasting period.
After getting up I have a glass of water, note the coffee or flavoured tea will have to wait till after 10 am when my fast finishes, then I sit at my computer typing notes for my website.
I walked across to the Mar Menor to go for this morning's swim, the air feels a bit cooler, I hope the water doesn't feel too cold. After swimming out around the rocks in the sea near my apartment, I sit on the wall drying off & see my neighbours Richard & Val who are off for a morning walk. I sit in the sun for a bit talking to Richard & Val before they set off on their walk & I return home for a shower.
At lunchtime, I walk around to the Doctor to pick up my blood test results from yesterday. The reading is a bit high & I have to lower the number of tablets I am taking. It may be because of the extra walking, swimming & the change in my diet, it's no problem that's why I have regular blood tests. After going to the Doctor I continue for a small walk into Los Alcazares before turning, walking along the beachfront & stopping at La Playa bar for a couple of beers. When hunger kicks in I head to D´Pollo to buy something to eat, unfortunately, although they are open when I arrive they have sold everything & cleaned up & I have to return home for a tuna sandwich for my tea.
The evening is spent resting my leg, it is cramping a lot & I am in a bit of pain. I must try to get some bananas to eat during the day, the potassium in them should help with the cramp. If this doesn't help I will have to get some of the sports drinks you see advertised with electrolytes in them. I go to bed after watching some rubbish on the television that was so good I can't remember it a day later when I type this up.
---
Saturday, 28th May. I woke around 7:30 today & after checking my email I head down to the beach at about 8:30 to go for my morning swim. I swim for about ½ hour, my legs begin to tighten up so I head back indoors for a shower. After my shower, I have a coffee & Tostado, before putting my washing in the washing machine & then heading down to the beach bar at about 12. I get a big bottle of water & sit reading my kindle for an hour before I head back indoors to put another load of washing in the machine.
For dinner today I walk to D´Pollo, earlier than yesterday so they have something left, I go about 1:30. The shop is already busy & some things are already running low. I buy myself a stuffed aubergine & a piece of lamb with chips. It all tastes fantastic, I am very lucky to have this place so close to my door.
This evening I watch the Liverpool vs Real Madrid football match. It is the Champions League final. Liverpool played very well but Real Madrids' defence is even better, their goalkeeper is without a doubt man of the match. Real Madrid win the game 1-0 & the cheering & fireworks being set off from the property surrounding mine, indicate that a lot of the Madrid homeowners are in residence in their second homes tonight.
I was very disappointed by Michael Owens´ comments after the game, I think he may be a bit biased. He insisted that he thinks Liverpool is still the best team in the world at the moment. Rio Ferdinand points out that they have just been beaten in the Champions League so they weren´t the best in Europe. Owen then argued that it was just a cup game & that anyone could win a one-off cup game. Rio Ferdinand then pointed out that Manchester City had won the Premier League so Liverpool wasn't even the best team in England. Owen continued to argue that he thought Liverpool are the best team in the world. Michael, have some common sense, wait till your disappointment has subsided before you start making ridiculous statements. Liverpool won both domestic cups in England, but, in your own words Michael, anyone can win a one-off cup game & you came 2nd best in the other two competitions. Liverpool had a fantastic season but they are not the best team in the world. Everybody knows that award goes to Arsenal.
---
Sunday, 29th May. I wake around 7 am this morning & sit at my computer working for a while before going for my morning swim. I swim for about 40 minutes then go back to my apartment for a shower.
After my shower, I make some scrambled eggs on toast for my breakfast. Just as I sit down to eat my breakfast my friend David arrives. He is just popping in to give me some advice on rearranging my kitchen cupboards. I am pleased to say it appears as straightforward as I thought. I used to do this all myself, fit kitchens, boilers, cookers etc when I was working as a gas service engineer for British Gas. I still have the knowledge of how to do these things but I no longer have the eyesight to be able to do it, or the tools to do it properly if I wanted to.
After being given the ok by David I settle down at my computer to check out deals on new ovens & then work on my website. I look at lots of ovens & settle on one I like. I look at it in many stores but Amazon has it cheaper with free delivery & I already have half the money for it in Amazon credit. I place an order for a new oven which will arrive next Friday & for a camera lens sun filter, which will arrive next Wednesday.
At lunchtime, my friends Bernard & Christina pick me up to go to Campbells bar in Roda for Sunday Lunch. The lunch was very good but I had an attack of hiccups that wouldn't stop. I had the remainder of my dinner boxed up to take home & eat later when the hiccups subside. I always like my dinner here but the company today made it better than my normal Billy Nomates company, thank you Bernard & Christina.
After being dropped at home I settled down with my feet up on the sofa, my legs are again causing me some pain. As well as the normal ache I have an itching sensation that wont stop. To try & help with this, I cut a piece of Aloe Vera from the plant on my balcony, cut into it & spread the pulp on my legs. After a short while the itching does stop, I knew I had cultivated the large Aloe Vera for some reason.