This week I do a lot of swimming, buy some furniture, get some jobs done in my apartment, go for a curry with friends, get stung by jellyfish in the Mar Menor, & still find the time to see Madness in concert in Murcia & book a weekend away later in the year.
Alan Morris, 2022, week 25.
Monday, 20th June. I woke up early today, & went for my swim in the Mar Menor before the birds were awake.
I swim out to the rocks which are about 200 m from the beach & I do my water aerobics. My water aerobics consists of me lifting one knee, as high as I can in front of me, putting it back down, & then doing the same with the other knee. I repeat this 50 times on each knee at a slow pace. I then repeat this 50 times on each knee as quickly as I can before repeating again slowly. After this, I swim back to the shore. I then repeat the entire routine twice more, I think the swim is closer to 250 m each way for me because I never seem to be able to swim in a straight line, I have to keep changing course as I swim.
After my swim, I return to my apartment, have a shower & get ready to go to the bank for my appointment this morning. I get to the bank at about 11:45 & I am seen at about 12:15 for my 12:00 appointment. I want to get a quote for travel insurance, I have been looking online & I got a quote from the people I have used before but they all seem very high. The bank has told me before they can get me a good deal & after speaking to them I am very happy I went in, I got insurance for my cruise later in the year & it only cost me €25 for the exact cover & conditions the online companies had quoted me over €70 for.
I leave the bank & head straight for the office, I get there at about 12:40 pm just in time to hand in this week's spreadsheets before the boss has to leave. It will be a very short work week this week as the boss is leaving early today & is closing the office tomorrow so he can have a day off.
On the way home I go into the Mercadona supermarket to get myself some food for the week. After getting my shopping I head home but decide it is too hot to cook this afternoon & stop at D´Pollo for a meal of, pork in pepper sauce with chips. I also treat myself to a three-layered piece of chocolate tart. This morning's extra exercise means I can have a treat.
The evening is spent surfing the internet looking at different football gossip. Apparently, according to the online football gossip, Arsenal are buying up most of Brazil's footballers who haven't already got a team & about 50% of the ones who have got a team.
1.2km
---
Tuesday, 21st June. I go for my morning swim at about 8:30 am. I swim to the rocks & back twice, doing two lots of water aerobics. When I am sitting on the wall drying myself, the Guardia Civil arrive to question two men who arrived on ladies' bicycles. The men were sitting on the astroturf under one of the trees & the police questioned them, searched through all their bags & checked the bicycles & rubbish bins near them as well. I don´t know why they were questioning them but it did appear as if they knew who they were. I returned to my apartment but when I looked from my balcony, both the Guardia Civil & the men they were questioning had gone. Whether they went together or not I don´t know.
I take a shower, work on my website for a while & get myself breakfast & coffee. After breakfast, I go back to work on my website altering some of the photo galleries & restructuring the content of some of the different sections.
This evening I use my new oven/air fryer to make a pizza for the first time. It cooks the pizza a lot better than my old oven ever did, it has a specific pizza setting which cooks the pizza just how I like it & as it is on top of the counter rather than below it, it is much easier to use & to see how whatever is in it is being cooked. I buy cheap pizzas in the supermarket & add my own extra toppings this works out cheaper than buying all the ingredients from scratch & is a lot quicker.
800m
---
Wednesday, 22nd June. I go for my swim at around 8:00 am, I do two sets of my now normal routine before coming back to my apartment for a shower. After my shower, I sit at my computer with some honey cornflakes & a coffee. I look at the stock that the local 2nd hand shop, ATime4AChange has in & has added to their website. I have been looking for a new sofa & today they have one I think will be ideal for me. I message them & they reserve it for me until I can see it later today.
My friend Bob is coming to cut my hair today but lets me know it will be this evening rather than earlier so I walk around to the store to see the sofa I messaged them about. It is the right size for my apartment & after sitting on it to check that it is comfortable, I make the purchase. It will be delivered next Tuesday so I don't have to wait too long for it.
On my way back to my apartment I walk along the beach & stop at the Chiringuito El Lobo outside my apartment. I get a large bottle of water & sit there reading my kindle for a while. There used to be two chiringuitos opposite each other here but I only ever saw the one in the seven years that I have lived here. When I moved here one had been replaced by a tourist office that was never open. The second chiringuito has been put back in the last week but not yet opened, today they are adding some more finishing touches to it, I guess it will open sometime this weekend.
I go back to my apartment & have potato & onion Spanish Omelette, with salad for lunch. At around 5 pm my friend Bob turns up to give me my haircut. I am soon feeling much better with a new shorter haircut. I hate my hair as soon as it gets much longer than a few millimetres, I have grown used to short hair, it is much more comfortable in the hot weather.
This evening I air fry some chicken wings for my tea. The new air fryer again does them a lot quicker & a lot better than the old oven ever did. So far everything I have cooked in it has turned out really well & I am very pleased with it.
800m, 1km
---
Thursday, 23rd June. I woke this morning to the noise of the road sweeper as it passes by my apartment. I get up & work on my computer for a while before heading out for my morning swim in the Mar Menor at about 8:45 am.
After my swim, I go back to my apartment have a shower, get some cereal & a coffee & wait for my friend Reinder to arrive as he is attaching a bracket to my kitchen wall to sit my microwave on. Reinder fitted my microwave to the wall in my kitchen & helped me to move a particularly heavy sideboard cupboard I have in my lounge.
Once Reinder leaves I go to the ¨atimeforachange¨ shop near me to help Kerry with a computer problem. She has had a new website set up & has a few small teething problems with it. After I talk to the person who has designed it for her, he manages to fix one problem & is confident of fixing another this afternoon. I leave the shop & go back to my apartment.
I have some salad & Spanish omelette for lunch & decide to relax in front of the television this afternoon so that I am fresh when I go out for a curry with friends tonight.
At 19:20 I meet my friend Pat & he takes me to the bar Marinocio where we meet more friends, Bernard, Gary, Paul, James, Peter & Mike for a drink before we continue on to the Gurkha Durbar restaurant for our meal. Unfortunately for me just after eating a nice starter of fried minced meat dumpling, I had a bad case of acid reflux & I couldn't eat any of my curry. This had nothing to do with the food in the restaurant, sometimes I can go months without being affected by it & it doesn't seem to have any specific trigger that sets it off. I ask the waiter to box my meal up for me so that I can reheat it & eat it tomorrow lunchtime.
Apart from the acid reflux, the night was a good one, although I do prefer it when we eat at the Massala Cottage. When we eat there we get a round table so that we can all join in the conversation & there is more room to sit. After our meal, Pat dropped me home & I went to bed almost straight away, I was surprised I got to sleep with all the fireworks going off outside whilst the locals celebrated San Juan day, but sleep I did.
800m
---
Friday, 24th June. I woke early this morning & after checking my computer for messages I went for my swim in the Mar Menor. For the first time since I have been swimming in the Mar Menor, I got stung by jellyfish today, not once but twice. Because of this, I cut short my swim & aerobics.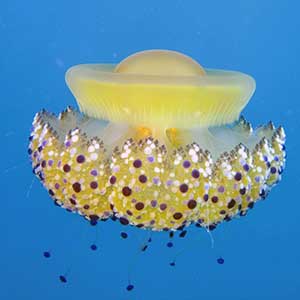 The Cotylorhiza Tuberculata or as its more commonly known, the Fried Egg Jellyfish, spends a lot of time motionless, slowly pulsing its bell while drifting. The numerous short, club-like appendages extending from it contain mouth-arm openings through which the jellyfish traps prey & feeds. The primary food of this jellyfish is zooplankton & other jellyfish.
Whilst the stingers are present & look threatening, the sting has very little effect on humans. Its sting is so mild that the tentacles sometimes provide shelter to small fish.
I swim through large shoals of these jellyfish most years, but have only seen one or two this year, & have never had any sting from them. These are the ones that you sometimes see children picking up & playing with on the beach.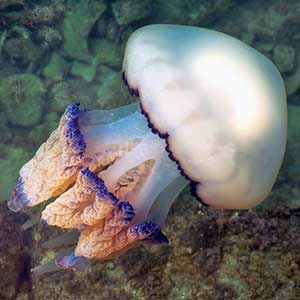 The Rhizostoma Pulmo or the Barrel Jellyfish as it is more commonly known is moderately venomous but not as deadly as other species. Effects include a burning sensation on the skin, dermatitis & ulcers which confirms it is toxic to humans. However, it does not pose a serious threat to humans.
That said, this is the nasty beastie that viciously attacked me this morning. I can only describe the pain as comparable to that of a bad stinging nettle rash. It is stronger & lasts longer but didn't seem to have any other effects.
I had to go for my regular blood test this morning so after having a shower I walked around to the Doctors surgery, arriving just after 9 am. I got my appointment for my blood test quickly but the nurse had real trouble finding my veins this morning, she even did a little vampire dance & sang a song when she finally got me to give up some of my precious blood.
The nurse noticed me wince as she held my arm where the jellyfish had stung me. I asked her if she could tell me a cream to put on it but she told me to see the Doctor. Luckily for me, there was no one else in the surgery this morning & I was able to see the Dr straight away. His advice for anyone who does get stung by jellyfish is to rinse the sting area with fresh water mixed with a little ammonia straight away. Unfortunately for me, I don't carry a small ready mixed bottle of clean fresh water with ammonia in my swimming shorts. He did prescribe me a cream to rub on the areas on my arm & leg.
When I left the surgery I got the cream at the pharmacy next door & then walked to Chiringuito El Lobo. I sat there & had a coffee, then a bottle of water whilst I read my kindle for an hour. When I got back to my apartment I worked on my website for a while before reheating last night's curry & having it for lunch. It was very nice & I would recommend it to anyone who goes to the Ghurka Durbar restaurant, it was the Lamb Tikka Labrador with coconut rice.
At 18:00 I walked to where I was being picked up by the coach to go & see Madness in Murcia tonight. As I got there I also received a message saying the coach was running 15 minutes late. When the coach turned up we were soon on our way picking up more people on the route to Murcia. Somehow, someone made a faux pas & after stopping to pick people up at La Torre Golf resort we had to wait for a bigger coach to arrive as there were not enough seats on the one we were on. The coach eventually arrived about an hour later & we were on our way again. When we got to the Bull ring in Murcia the coach driver didn't know where he could park & we had to sit on the coach whilst he asked police where he could park.

The concert was brilliant, Madness were brilliant & I love this stadium, it is a great place to see a concert you get so close to the stage, even with the cheap ticket I had. I did, however, get a very bad leg cramp just after the concert started, in case my leg gave way I moved across to the bar a few steps away & leant on it for the remainder of the show. The staff there were very kind making sure I stayed hydrated throughout the show. I actually had a very good view from where I was & didn't get bumped into or knocked all the way through the concert, if I´d stayed where I had been, front & centre, I would have been bounced, bashed & bumped all night by joyous revellers. I also got to see the sideshow of the VIP bar staff dancing along to the music.
When the show finished I made my way back to the coach pick-up point. The journey home was a lot quicker than the outward journey & when I got dropped off I had a short walk home & went straight to bed.
400m, 1.5km
---
Saturday, 25th June. After last night's very late night I didn't wake until after 11 am this morning. As I also have a parcel being delivered today I forgo my morning swim in the Mar Menor. I get myself a coffee & look at some of the video clips I shot at the Madness concert last night.
The cramp last night has left my leg sore, I spend the rest of the day with my feet raised, relaxing, binge-watching, Hart of Dixie on the television & surfing the internet for any news of transfers for Arsenal. At about 5 pm my delivery from Amazon, a chocolate & hazlenut protein powder, for my milk shakes arrived.
I watch television until I go to bed at about 11 pm.
---
Sunday, 26th June. I woke at a more respectable time today, around 8 am. I get up & go for a swim in the Mar Menor. I take my snorkel mask today, it gives me a better chance of seeing any jellyfish before I swim into them. I do encounter four Barrel Jellyfish this morning but managed to avoid getting stung by the little blighters.
After my swim, I take a shower then cook myself a full English breakfast & have it with a couple of coffees. My leg is still a little sore today so I will again take it easy. I was surfing the internet when I saw an advert for the band Texas who are appearing in Albacete in September, I always loved Sharleen Spiteri´s voice so I buy a ticket to the show, book a train to Albercete & a two-night stay in a hotel. I now have something to look forward to before I go on my cruise later in the year.
This afternoon I take my kindle out for a walk along the beachfront. I get to La Playa bar & sit down with a pint for an hour reading my kindle in the sun. When I finish my pint I walk back towards my apartment & stop at the Chiringuito outside for another pint. I sit there for an hour or so reading my kindle before going home for some food.
For my tea, I have chicken with melted Brie cheese on top of it. This evening I watch episodes of the Hart of Dixie before going to bed. Unfortunately, I can not sleep so at 1 am I get back up to finish this post on my website & watch some more television. Hopefully, I will fall asleep in front of the television.
600m, 1km