This week I swam every morning until I got stung by a large barrel jellyfish right across my back & shoulder. I also took delivery of a new circulation machine that I hope will help my legs & maybe help with the cramp that I get after walking short distances.
Alan Morris, 2022, week 29.
Monday, 18th July. I woke at just after 8 am today. I updated & published last week's diary-blog & then went swimming in the Mar Menor at about 9:20. Because I had gone swimming later today the wind had picked up & started blowing waves across the Mar Menor, because of this swimming was a bit more difficult this morning but I did manage to swim to the rocks & back 3 times.
When I got back to my apartment I had a shower & a coffee. Because my calf muscles have been hurting a lot recently & because I know that I have very poor circulation I searched the internet for an electric circulatory stimulator. They allegedly improve circulation in the legs, & the electric impulse massager relieves pain. I found one on Amazon & ordered one, it wasn't cheap but it did have very good reviews so I hope that it can manage my pain & help with my circulation. I am getting fed up not being able to walk very far & hopefully this will help me be able to step up my exercise routine to include a lot more walking.
This afternoon & this evening is spent trying to keep cool, the doors & windows are all shut up & the air conditioning was put on a lot early than most other days.
1200m
---
Tuesday, 19th July. This morning I was awake before 7 am. As I have to have a blood test today, I decided to go for my swim straight away. I was swimming in the Mar Menor by 7:30 am. The water was beautiful, calm, clear & completely free of other people. I swam out to the rocks & back three times before returning to my apartment for a shower.
At just before 9 am I went to my Doctors surgery to get a blood test to check on the coagulation levels of my blood. I was seen very quickly but it took a couple of attempts for the Phlebotomist to take some blood from my arms. I left the surgery with pads covering puncture wounds on both arms. As I was already out, I decided I would go to La Encarnacion for breakfast. I sat there & had a coffee & a tostada with tomato. It is a beautiful place to sit & have breakfast but even sitting under the shade of an umbrella it got very hot, very quickly. After breakfast, I headed back to my apartment to cool off for a while before going to meet my friend Martin.
I met Martin at the office, but due to the heat, I swapped my beer for a bottle of water this week. At 2 pm we were joined by Aria & Kate. Aria left us all & joined a lady at a neighbouring table who had brought her caged bird out for a walk & a coffee, I kid you not. I went home & got myself a tuna sandwich for my lunch.
Because it was so hot out again I spent the afternoon & evening inside, out of the heat. It is not so much the high temperature that it climbs up to that causes problems for people, it is the fact that it doesn't drop much during the night. The coolest it seems to have got at night in the last few days is around 26°C, which is too hot to sleep comfortably. I am lucky to have very good air conditioning throughout my apartment, I put it on to cool my apartment before going to bed.
Whilst watching the television tonight it is confirmed that Arsenal has bought another player from Manchester City, they bought the Ukrainian player, Oleksandr Zinchenko. I think he is a great player & I am hoping that with the player's Arsenal have added to the squad so far they will do well in the upcoming season.
1200m
---
Wednesday, 20th July. After waking this morning I went for my swim in the Mar Menor. After my swim, I returned to my apartment checked my messages on my computer & got myself a coffee & a protein shake. Whilst I was sitting at my computer the bell for the apartment went, I looked on the video panel in my apartment to see who was there & it was a delivery for me from Amazon. The delivery wasn't due for two more days so I am pleased I was here to accept the delivery. I buzzed the delivery driver in & then opened my front door, when he arrived he had trouble reading my TIE to see that I was who I said I was, at least he checked most don't.
I unpacked my parcel & it was the ´Circulator´ machine that I ordered. I plugged it in & sat back down at my computer. Now when I am working at my computer I can use the machine, hopefully, it will help my poor circulation. The machine pulses a current through my feet into my legs, it is a strange sensation as I can feel my calf muscles responding to the pulses. My muscles contract & throb as the current goes through my legs, it is not unpleasant & I can imagine that this may well help with the bad cramp I regularly get.
I log into my Doctors website around lunchtime to see the results of yesterday's blood test. To my delight, the reading for my INR is 2.4. I have to aim to have a reading close to 2.5 so I am absolutely delighted. I normally have large movements in the results so I am pleased that the reading shows that I am doing well, I must be doing something right with my change of diet & exercise regime.
This evening I am surfing the internet when I see an app that tracks my INR & my sintrom dosage, it looks quite good & as it's less than €3, I buy it & install it on my phone. At first glance, it looks very good & I enter my test results for the last year. Only time will tell if it was worth buying but hopefully, it will make my life easier.
This evening I watch the England ladies play the Spanish ladies in the 2022 Women's European Championship finals.
1200m
---
Thursday, 21 July. I woke up at about 7 am & immediately got my important jobs out of the way. I logged into my computer & checked how Arsenal got on, in a match in Orlando, Florida early this morning. Arsenal won 3-1 against Orlando City. Whilst reading the report I put the circulation machine on & let it pulse energy through my feet. After reading the results I decided to go have a massage before my swim & had a 20-minute massage in my massage chair.
I went swimming at about 8:20 just before all the local Spanish ladies descend on the beach & form a blockade to prevent me from swimming my lengths to the rocks unhindered. They arrived shortly after I started but I did manage to weave my way through them & complete three laps to the rocks & back.
After my swim, I went back to my apartment & had a shower, a shave & a coffee. I had another 30-minute session on the circulation machine & then decided to go & see if I could see my friend Mike & have a coffee with him. I haven't seen him for months & he only ever replies to any messages I send him with single words or short phrases so it's difficult to know how he is feeling. He seems to be getting more introverted the older he gets.
As I went past Mike's home I noticed that both his bike & van were there which is unusual at the time I went past because it's when he has a coffee at the local cafe. I knocked on the door & Mike came out to see why I was there, I asked him how he was & he replied ´hot´. He was obviously not in the mood for a chat, happy that he was at least alive I left him alone & continued to the Taberna del Sol for some breakfast. I had a small breakfast which was very nice I will probably stop off there again on my way to the office on a Monday morning.
Whilst sitting having my breakfast I was amazed by the stupid, crazy or drunk driving I witnessed on the roundabout. A woman turned down the road heading in the wrong direction. She had to stop because a car was coming straight at her. She then reversed back up the road & onto the roundabout & facing the wrong way, went the wrong way round the roundabout to leave the roundabout at the correct exit, going the right way down the road. If the lady driving the car ever reads this, please take note, ´give up driving, do not get behind the steering wheel of a car ever again, if you had been drinking get along to alcoholics anonymous & get some help´.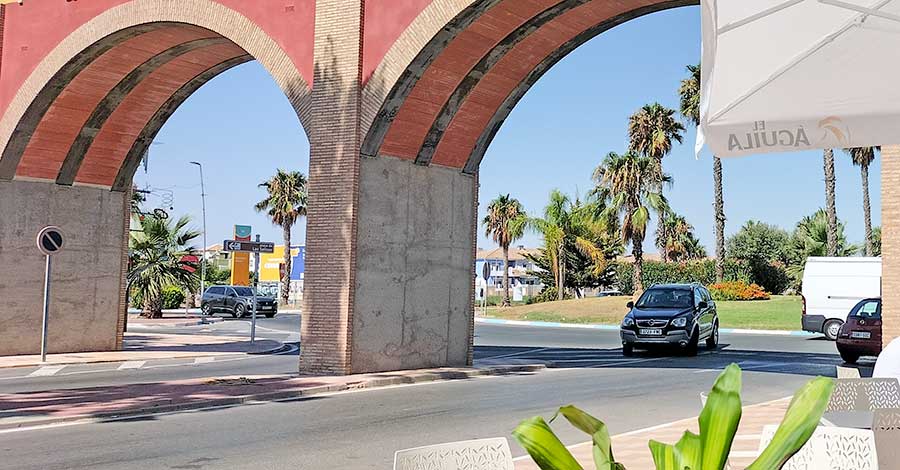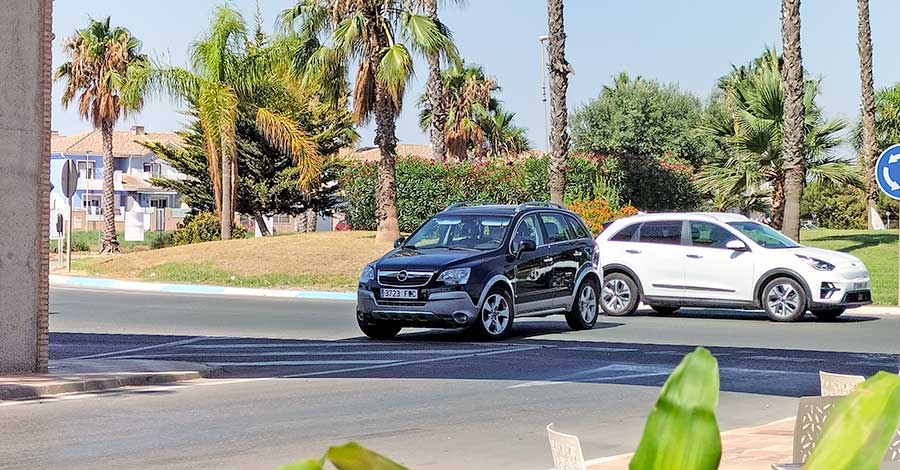 After breakfast, I headed to the Mercadonna supermarket for a few groceries. When I got there, there was a car with its engine running parked right outside the shop entrance blocking the car park, making it difficult for cars to park & for pedestrians to cross safely. When I finished my shopping the car was still parked in the same place with the engine running, the air conditioning running & the male driver sitting in the driver's seat. The sun must be affecting people today, surely parking in a car parking space would have been easy than blocking the carpark for everyone else? I returned home to my apartment with my groceries & decided to avoid the roads for the rest of the week until all the idiots have killed each other or gone home.
For lunch, I made myself a protein shake. This afternoon I watched the Tour de France on the television. It included an incredible piece of sportsmanship that I don't remember seeing before. The cyclist wearing the yellow jersey was in a race with one other rider, both battling for the lead. The rider in 2nd place tried to go past the rider in 1st place but missed timed his challenge. The 2nd placed cyclist, Tadej Pogačar, went off the road & when he attempted to come back on the road he lost control of his bike & crashed to the floor. The 1st placed rider in the yellow jersey, Jonas Vingegaard, saw what had happened & instead of extending his lead, he slowed right down, waited for the other cyclist to get back on his back & catch him up, they then shook hands & continued the race. Jonas Vingegaard proved to be too strong in the last few kilometres of the race & won today's race anyway but it was an incredible bit of sportsmanship. Well done Jonas Vingegaard its a shame politicians of the world cant all take note of what you did & act as well as you did today.
In the afternoon my friend Bob came round & gave me a haircut. It wasn't particularly long but as soon as it gets longer than a good toothbrush bristle I find it uncomfortable & I was very glad he could trim it for me before I go away for a day trip next week.
This evening, I order myself a new magnifying glass as the one I have to use occasionally, is no longer fit for purpose. It is made of plastic that has become scratched & was never very good anyway, it was a free one issued by the ancestry website. I ordered a proper magnifying glass with a large 3x magnifying glass & a smaller 45x magnifying glass built into the handle, it also has a built-in light for when Im using it in low light. I also managed to fit the spare watch strap on my watch this evening. The one that was on it, broke at Algar Waterfalls last week & I was lucky to notice when it fell off my wrist. Unfortunately, the spare strap included is a different colour & looks horrible, it will have to last until I see a nice watch to replace it, maybe whilst I am on my cruise later in the year.
1200m
---
Friday, 22nd July. I woke around 8 am today. I update my website before going for my morning swim at about 8:45 am. I swam to the rocks & back my now normal three times this morning but it took a little longer than normal. It didn't take longer because I was tired or because the wind was causing waves, it took longer because the tall palm trees were being trimmed along the beach & I kept watching the man in the cherry picker as he threw branches down to the floor below him. People walking along the promenade were just ignoring the branches crashing to the floor around them as they walked past. Back in the UK, the health & safety rules would have meant the beach had to be closed for the day & all workers would have had to have been in full riot gear for their own safety.
With my swim finished I returned to my apartment, had a shower & covered myself in sun cream. I had some cereal & a coffee then went to the chiringuito with my kindle. I sat at the chiringuito until around 2 pm before heading back to my apartment for a protein shake & to have a session on the circulation machine.
My new magnifying glass arrived but I wasn't very impressed with it. The large magnifying 3x lens was fine but the smaller 45x lens was horrible, it was difficult to see anything through it, it felt like the lens was crooked & when I did manage to see through it the image was mirrored & everything was backwards. I immediately repacked it & went on Amazon to return it. At the same time, I ordered a different magnifying glass, with just one glass that is a 10 x lens.
The afternoon & most of the evening was spent sitting on my patio reading my kindle.
1200m
---
Saturday, 23rd July. I woke at about 7 am this morning & went for my morning swim around 8 am. I was on the second lap of my normal route, swimming on my back approaching the rocks when I felt a strong sting right across my shoulder & back. I had swam right into a large barrel jellyfish. I swam back to the beach & crouched underneath a foot washer on the beach to try & run cold water over my back. After trying this I went back to my apartment & took a cold shower running the water over the affected area as my Doctor had told me last time I was stung almost four weeks to the day.
Once I had showered I put some shorts on & asked my neighbour, John, if he could apply the cream the Dr had given me last time to the affected area as I couldn't reach it. He applied the cream telling me he could see the area I had been stung. Even in a mirror, I could see a large red area where the jellyfish venom had hit my back. I returned to my apartment & took a painkiller as well but I think I may have to resort to getting myself some liquid painkillers later, just to dull the pain.
This evening I leave my apartment & jump on the tourist train as it passes the end of the street where I live. My friends Bob & Connie run it & I have a chat with Connie as we head up towards Rio Nalon, where a lot of the bars & restaurants are in Los Alcazares. I get off the train, checking what time the last train back the other way is, & head towards the Celt bar. My friend Wardi is performing there tonight & I haven't seen him in a long time. I entered the Celt bar & straight away I am greeted by my friend Kristin who works there, I get myself a pint & then go to talk to John as he is setting up his equipment for his show later.
The bar is advertising that John is starting at 9:30 pm but John tells me he won't be starting till around 10 pm. After chatting with him for a while I leave the bar & walk across the street to Roccos bar. I am greeted by my friend Rachid who owns the bar, as soon as I enter, I buy myself a pint & go back outside to sit with my friend John. We sit talking about Arsenal & catching up on each other's stories until I go back to the Celt bar at 10 pm. In true Wardi style, as I walk through the door to the bar, he walks in behind me. I get myself a pint & sit down with my friends Paul, Sue & Alan for a chat & to catch up. As expected Wardi drags out starting until 10:55 pm. It may be good for the bar that they advertise him starting at 9:30 pm & him not starting until nearly 11 pm but it really is annoying for people who go to see him. I am able to listen to his first two songs before I leave to catch the last train.
As I walk towards the train stop I am called back by my friends Linda & David who are sitting at Zarco's bar. The train hasn't arrived yet so I sit down for a quick chat before I jump on the train when it arrives. I get off the train close to La Playa bar & go in for a pint before going home. It is very quiet in the bar for a Saturday night but I do get to chat with my friends Sophia, Ady & Willy. I have a couple of beers & then walk back along the beach to my apartment. The Arsenal v Chelsea game is on the television tonight at 2 am & if I can stay awake I will watch the game.
800m
---
Sunday, 24th July. I managed to stay awake to see the start of the Arsenal v Chelsea game. I saw Jesus score to put Arsenal 1-0 up but fell asleep about 30 minutes into the game. When I woke up the game had finished so I went to bed.
I woke back up around midday & looked to see if the Arsenal v Chelsea game was being shown again. I found it on a Spanish channel but it was already halftime when I found the channel. Arsenal had added a second goal before halftime with Odegaard scoring. I was able to watch the second half in full with Spanish commentary, Arsenal scored twice more with goals from Nelson & Lokonga. Chelsea never really worried Arsenal & Arsenal were comfortable winners with the final score of 4-0.
This afternoon I did my washing & spent the afternoon & evening watching films with the air conditioning on. For my dinner, I had a small chicken which I cooked in my air fryer oven. What I didn't eat will be used for sandwiches tomorrow.