This week I went for lunch with my friends Frouk & Reinder & did a lot of work on my website, some of it twice. It was also the week one of my first schoolboy crushes died. RIP Olivia Newton-John.
Alan Morris, 2022, week 32.
Monday, 8th August. I woke at just after 8 am today. I had a coffee & updated my website whilst waiting for a delivery today. I am expecting my delivery of CBD which arrives once a month. The postman arrives with it just after 10 am, which means I don't have to wait all day.
Just before I am due to set off for the office today my boss, Martin, messages me to say that he has to do extra work at his other job this morning & won't be able to get to the office. I am pleased he told me as I would have hated sitting at the office on my own, working hard, instead I can also skip work & have a relaxing day.
I have a shower & a shave, cover up in high-factor sun cream & then set off to get the shopping I didn't get yesterday. It doesn't matter how many notes I write myself or how many times I remind myself, I always forget to get something I wanted when I go shopping. Today was no exception, I got home & realised I had forgotten a few things on my list & got many things I didn't need. I wonder if there is some sort of hidden subliminal suggestion in the shops making me forget some stuff & making me buy stuff I don't need just so I have to go back another day.
I have a long chat with my sister in England using Skype this afternoon. It is great to catch up with her & have a good chat after not speaking to her for a while. I don't seem to be able to get comfortable this evening, it is too hot, I try to go to sleep & can't sleep because of the noise from a neighbour's apartment. They have the television up so loud I have trouble concentrating on anything but their television.
I go to bed but after a few hours of not being able to drop off, I get back up to work on my website at around 1:30 am. While working on my website, I see the sad news that Olivia Newton-John passed away at the age of 73. She was one of my first crushes & remained a beautiful woman to the end. I finally finish working on my website at around 4:30 am & go back to bed.
If you ever spent any time in my company when I was a schoolboy or in my car when I was about 17 you will remember this being played all the time. It's a country song by Olivia called ´Have You Never Been Mellow´.
---
Tuesday, 9th August. I woke around 8:00 am & got up for my swim in the Mar Menor. When I get in the water I just don't seem to have any energy, I swim about 200 metres then just float around in the water for half an hour. The water is very refreshing & cools me down but I cut my swim short & go back to my apartment. I get a coffee & some cereal then take a shower & get ready to go out with my friends Frouk & Reinder at lunchtime.
Frouk & Reinder picked me up at just after 1 pm & we drove to San Javier to the Yamami Kitchen restaurant. It is a Chinese restaurant & I had the menu of the day. The meal was very good value & everything tasted really good. I had Hot & Sour soup for a starter, followed by noodles & Korean spicy pork & finished my meal with Tiramisu flavoured sponge cake.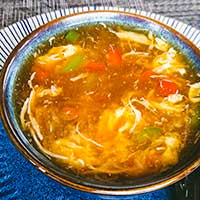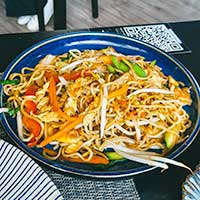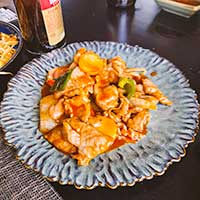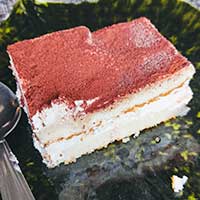 We had a good chat whilst we were eating & when we finished we left & stopped off at the Taberna del Sol bar in Los Narejos. We were the only people there & Reinder had to go in to order the drinks as no one came out to take our order. When we had finished our drinks we still hadn't seen anyone come out to check on us or, to see if any other customers had arrived. I went inside & paid for our drinks & we all left & went home.
The evening was spent with my feet up watching rubbish on the television before I went to bed at about 11 pm.
200m
---
Wednesday, 10th August. I woke at about 7:30 today. I got up & went for a swim in the Mar Menor. I managed to do three laps of my normal route this morning. As I was swimming I did notice storm clouds rolling in across La Manga but where I was at the beach there was no rain at all.
After my swim, I had a shower & then had a couple of coffees before I started working on my website again. I began by adding maps to some of the photos from my time in Los Angeles in 2012. Whilst I was working on my website I had a message saying that the postman hadn't been able to deliver my parcel. I find that very strange as the postman hasn't been to the apartment block all morning, he goes past my window on a moped most mornings but hasn't today. I think it's too large for him to carry safely on a moped & they haven't even attempted to deliver it.
The good thing about working on my website is that I am always online when working. This meant that today I had a good long chat with my Uncle Dave in Birmingham. Technology does have its benefits after all. We swapped stories about our holiday to America in 2012 & caught up on what the other has been up to.
This evening was again spent working on my website, this time adding maps to photos from the Summer Palace in Beijing. I got so engrossed in the work that I hadn't realised it was gone midnight. When I did, I stopped work, put the air conditioning on for a while & went to bed.
1200m
---
Thursday, 11th August. I did not sleep well last night & after broken sleep, I woke at 9 am. I am about to go for my swim in the Mar Menor when I remember that the parcel that the postman allegedly tried to deliver yesterday was actually due today. Instead of going for a swim, I will wait until after I see the postman either deliver my parcel or go past without it. I sit down at my computer with freshly juiced orange & begin working on my website again.
At 10 am the postman does deliver my parcel, I take it off of him & then go back to working on my website. At around midday, I get myself some lunch from bits & pieces in the fridge. I have a bit of Spanish omelette, some ham & a seafood salad. After lunch, I carry on working on my website until around 2 pm when I decide to have a break.
I take my kindle onto my balcony & finish the book I have been reading. As I finish the book, both my kindle & my phone inform me that they are too hot & turn themselves off. Taking their sensible advice I go back inside my apartment where it is a bit cooler. I fire up my laptop & do some research for my family tree, I discover a new branch that leads to cousins in New Zealand who I am able to message through the Ancestry website. After a while, I decided to see if it had cooled down on the balcony but when I look at around 4:30 pm it is still around 104°f so I decide to stay inside.
The evening is spent doing genealogy, trying to find out as much as possible before my subscription to the Ancestry website ends next week.
---
Friday, 12th August. Today I woke around 7:30 am & by 8 am I was swimming in the Mar Menor. The water was beautiful this morning & there were fewer Spanish ladies running a moving blockade in the water today. After my swim, I returned home for a coffee & some orange juice.
After drinking my coffee & orange juice, I took my rubbish to the bins & decided as it was a bit cooler, that I would go for a walk. In theory, this was fine but by the time I got back around 11 am there was more water running off me than down the Thames, I was sweating like a pig & breathing like a steam train. When I got back I could hardly breathe & had to sit down & do nothing for a while. I topped up with cold water & sat down at my computer to work.
After working on my website for a while I went to get some cereal at the supermarket on my mobility scooter. It was for the cereal I forget last time I went shopping. To make up for forgetting last time I buy two different ones, honey nut cornflakes & a cereal that is called peanut balls. They look like peanuts or chocolate peanuts & taste like peanut butter, I can't stop eating them. I have only seen them in Mercadona, if you see them buy some & try them out.
When I get home I start watching the television series ´The Time Travellers Wife.´ I saw the film years ago & forced my mum to watch it, she loved it as well & couldn't stop crying at the end. I even bought the book, which I thought was better than the film, so it will be interesting to see how the television series has been made.
I have to say after watching the first two episodes of the series it was every bit as tear-jerking as the film & book, if it was possible for me to cry I would have cried my eyes out.
I went to bed a little earlier tonight & was in bed by 11 pm.
1200m 2km
---
Saturday, 13th August. I woke around 7:30 am today. I stripped the linen from my bed & put it in the washing machine before I went for my swim in the Mar Menor. The wind seemed to have changed direction this morning & was blowing some small waves up but the wind soon disappeared & the waves with it.
After my swim, I went back to my apartment & had a shower. After my shower, I took the bed linen out of the washing machine & put my dirty clothes in the machine to be washed. I then sat down with a coffee to get my breath back before I go for a walk along the beach front.
Walking in the high temperatures & humidity we have at the moment was not a good idea. I walked along the beach to La Encarnacion & cut through the sides streets on the way back to stay in the shade. By the time I got back, I was puffing like a steam train & had trouble breathing. Swimming in the cool sea is a lot more enjoyable.
The afternoon was spent watching different football matches but the only one I watched all the way through was the Arsenal v Leicester game. Arsenal played brilliantly & new signing, Jesus, scored two & assisted in two more as Arsenal won 4-2. I was really impressed by the Arsenal fans after young centre-back William Saliba scored an own goal. For quite a long time afterwards, every time he got the ball the Arsenal fans would call his name & cheer him on, he has become a fan favourite already.
Tonight I went to bed around 11 pm. I was very tired & think it was a combination of the swimming, walking & the heat, but I fell asleep very quickly.
1200m 2.4km
---
Sunday, 14th August. I woke around 7:45 am & by 8:15 am I was outside swimming in the Mar Menor. I swam for around an hour before going back to my apartment for a coffee & some cereal. After my breakfast, I worked on my website for a few hours.
It was too hot to cook today so I went to the local chicken shop to get myself something to eat at lunchtime. As always there was a large queue but I waited & was served quite quickly. To start I had a stuffed aubergine & after that, I had a lamb shank. Both were beautiful & they saved me from getting even hotter by cooking in my kitchen. After dinner, I sat down to watch football on the television.
The last game today was Chelsea v Tottenham which ended up in a 2-2 draw. The game was quite good but at the end of the game, both managers were shown a straight red card for getting in what can only be described as a handshake fight. Earlier in the game, they had already nearly come to blows & both were shown a yellow card. I think both teams will be getting big fines for this & both managers will also get touchline bans. That said I think the refereeing was diabolical & the ref should be banned for a number of games as well. Whoever was in charge of the VAR should be taken to Specsavers & fitted with new glasses because their decisions were truly unbelievable. I will be interested to see what the FA decides to do to the managers, referee & VAR official from this game.
This evening I loaded a new extension to the backend of my website which should make building my website easier. Unfortunately, it crashed the website. Fortunately, I had made a backup before & could restore it. Strangely the backup didn't seem to have included the work I had done this morning so it will all need to be done again.
For my supper tonight I had a steak roll with the last of a bottle of wine before going to bed at around 12 pm.
1200m