This week begins in Albacete before coming back home to Los Alcazares. I do work on my balcony garden & install a solar-powered fountain. The big news this week is the loss of Queen Elizabeth II, the Queen is Dead, Long live the King.
Alan Morris, 2022, week 36.
Monday, 5th September. This was the last day of my trip to Albacete to see the band Texas. You can read about the trip & what I did today here.
---
Tuesday, 6th September. I woke up at about 8 am today. I am expecting a delivery from Amazon, they tried to deliver it yesterday but I was not home & they will try again today. I have no food in the house apart from a pack of Spanish sausages & half a small pot of ice cream & I have no coffee left. I can't go out shopping in case the delivery arrives whilst I am out.
Today is yet another sad day, my friend Stevie ´Bygones´ passed away last week & today is his funeral & wake. Unfortunately, I can't go as I have to be home for the delivery that is arriving sometime today. I don't think I could have gone anyway as I am in a lot of pain but I will not forget you my friend, RIP Steve.
I spend most of the day writing up my blogs for my trip to Albacete, editing photos for the trip to Albacete & catching up on website administration that I couldn't do whilst I was away.
The delivery of my water fountain eventually arrives at 18:30 & I immediately unpack it & set it up on my balcony garden. It is fairly straight forward & I have it up & running quite quickly. I top up the tank with water, put the solar panel in one of my flower pots & switch it on. It looks & sounds great but I have to wait for the sun to go down to see if the lights in the water come on at dusk. As the sun goes down I check back on the fountain & I am very pleased to see the sensor has worked & that the lights have now come on as well as the fountain.
For my tea tonight I have half a pack of Spanish sausages that I cook in my air fryer & finish the meal off with half a tub of ice cream. Luckily for me, my friend Kate is coming round tomorrow to take me shopping. She wants to see my new water fountain & I don't want to have to walk too much as my leg is still sore.
I go to bed at about 10:30 pm but because my leg is still sore I have trouble falling asleep & fidget a lot during the night. Hopefully, with a bit more rest it will feel better tomorrow.
---
Wednesday, 7th September. I woke at about 7:15 am & got up to check any messages on my computer & to work on my website for a while before Kate comes round to pick me up to go shopping.
Kate picked me up around 10 am & took me to Mercadona to get my shopping, it's always nice to have food & coffee in the apartment. After we have been shopping Kate helps me take my shopping in & has a cup of tea whilst we chat for a while. After Kate has gone I put all my shopping away, splitting up some of the products I have bought into single servings & putting them in the freezer.
I get myself a chicken burger for lunch & then go & sit in the balcony garden for a few hours to read my kindle. My friend Martin Warman calls me from England & we chat for about half an hour. After we finish chatting I get up to check on the temperature as I am sweating buckets sitting in the sun, it is no wonder I am sweating the thermometer on my balcony reads 100°f. I finish the story I have been reading on my kindle & go back inside to watch television.
I flick between the football matches on the television but can't get excited about either game so I channel surf before going to bed at about 10:30 pm.
---
Thursday, 8th September. I woke around 7:30 am today. I take all my tablets, make myself a coffee & log on to my computer to check for any messages. It is whilst I am looking at my computer that I realise that it was 32 years ago today that the Doctors pronounced me dead after a car accident. I have to say that for someone who died 32 years ago, apart from aches & pains, I feel remarkably well. I have actually been pronounced dead on three occasions now & feel I must be in some way, part cat. I am trying to be more careful with the remaining six lives.
Once I have woken up properly I grab an old stale loaf from the kitchen to feed the fish in the Mar Menor & head down to the beach for a swim. It is amazing watching the fish in a feeding frenzy circling me as I sit in the sea with a French stick. Even when they have eaten the bread they continue to circle me in the hope that more bread may appear.
I swim out to the rocks a couple of times & bump into a jellyfish on one leg of my swim. I decide not to back down from the medusae & I tread water waiting for it to make its next move. Like so many bullies it backs away from me, like all bullies, if you stand up to them, they have no backbone & will leave you alone.
After my swim I just sit in the water relaxing, the fish gather around me again & the smaller ones give me a pedicure, sucking the dead skin off my feet & legs. After my fish pedicure, I go back to my apartment for another coffee & then take a shower.
During the day I notice that my elbow is a bit sore & that it is itching. When I look more closely I can see that the jellyfish got a sting in before I realised this morning. I find the cream that the Doctor gave me for jellyfish stings & apply it to the affected area on my arm, I am going to have to start wearing my swim mask for my morning swims, at least I will be able to see the jellyfish before they attack me & I can take avoiding action.
This afternoon I take a short siesta & wake up in time to watch the Arsenal game on television. Arsenal start the game well but the game is being drawn 1-1 at halftime. During the first half of the game, I flick through the news on my phone & see that Queen Elizabeth II has just passed away. Perhaps not unexpected but very very sad news. The Queen & her Mother were both Arsenal fans, the Queen actually invited the Arsenal team to a reception at the palace in 2007. I wondered if the news had filtered through to the ground in Switzerland where the match was being played.
At the start of the second half, the news of her death was announced over the tannoy system at the ground. A large memorial image is shown on the video screens & a minute of silence is observed by the players & fans at the ground before the match resumes. Arsenal go on to win the game 1-2 but the game is overshadowed by the news that Arsenal's most famous fan has passed away. The Queen has died, long live the King. RIP Elizabeth you will always be a Gooner.
After the game, I flick between the other football matches & the news channels until I go to bed at about 10:30 pm.
800m
---
Friday, 9th September. I woke this morning with backache, I decide to forgo my swim this morning as the rash on my arm from yesterday's jellyfish sting is quite visible on my arm & I do not want to aggravate it. I get a coffee & sit down at my computer to start work on my website.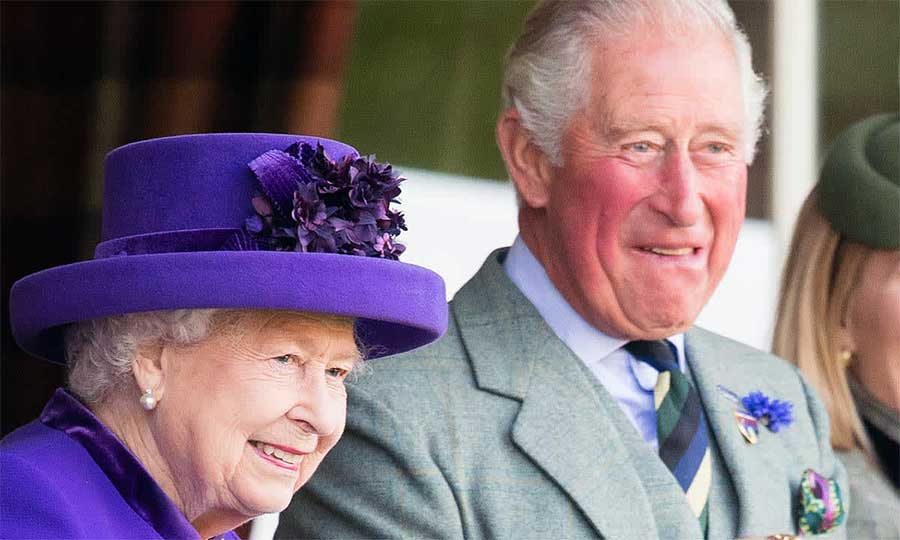 There will be little news on the television today apart from that of the passing of Queen Elizabeth II & the fact that Prince Charles is now King Charles III. I look forward to his reign & I believe he will be a very good King. I will say no more about the sad news but I leave you with this photo of the pair of them in better times.
After I have my second coffee this morning & I have woken up properly I clear up my kitchen before I do anything else. I then return to working on my website, adding maps & descriptions to photos on the section of the site about my holiday to China in 2014.
Because my leg has been aching more recently I had decided to get myself a magnetic bracelet to see if it will help my circulation. I used to wear two previously, one on each wrist, until I lost them at immigration in the USA on one of my visits. I had to take them off to go through a scanner & someone stole them whilst I was being scanned. Because I was in a hurry to catch my plane I did not have the time to fill out all the paperwork to make a complaint & get a letter to give my insurance company.
Anyway, I ordered two bracelets a few days ago, one a magnetic medical bracelet, which will help with my circulation & one a medical emergency bracelet. The second one has my name on it, it says (in Spanish) that I speak English & also has written on it (again in Spanish) that I am on blood thinners. The magnetic medical bracelet arrived today but I could not figure out how the clasp works. I decided to ask one of the ladies that I know to show me how it works when I go to see my friend Alan Bond sing at karaoke tonight.
For my dinner tonight I cook myself a tuna steak & have it with a salad. It was very nice & I thank my friend Martin for his tips on how to cook it. If he didn't have to work so hard at the office I believe he could be a very good chef.
At about 8:30 pm I go to see Alan at La Playa bar. I sit down at the bar & order a beer but it is far too hot to sit inside so I move outside to sit with some friends, Mags, Debbie & John. I start talking to the ladies & immediately realise that I forgot to bring the new medical bracelet with me. I tell them about it & they tell me they will look at it if I bring it down later in the week. I have a couple of beers & once my courage has been suitably wetted, I get up & sing ´I've got a brand new combine harvester´ by the Worzels. There are not too many customers & I didn't get anything thrown at me but I don't know if there were any complaints about my singing. It was an enjoyable night & after the short walk home along the beachfront, I went straight to bed.
---
Saturday, 10th September. I did not wake until after 10 am this morning, last night's singing must have worn me out more than I thought. After my morning coffee, I stripped the linen off of my bed to put it in the washing machine. My leg has bled quite a bit this week & there are a lot of red streaks of dried blood on the sheets, I hope it all comes out.
After the bed sheets have been washed I continue to do my washing & put another two lots of washing in the machine to be cleaned throughout the day. Because of the death of Queen Elizabeth, this weekend's football matches have all been postponed as a sign of respect for her. Instead of watching football whilst the washing is being done I find the TV series, ´Reacher´ & watch that instead.
The TV series is a lot better than the films about the same character, which I watched a little while ago. The actor that plays the main character, Reacher, in the TV series, is a giant of a man & it is a lot more believable when he does a fight scene than it is in the films. In the films, Reacher is played by Tom Cruise who is 5 feet 7 inches, whereas, in the series, Reacher is played by Alan Ritchson who is 6 feet 2 inches tall & built like the proverbial brick outhouse.
I go to bed around 10:30 pm but do not get to sleep straight away & every time I do I seem to get woken by revellers going home, or by the noisy kids who sit on the beach all night & don't go home until the sun comes up.
---
Sunday, 11th September. I woke up at about 7:30 am. I did not sleep well at all last night & my back aches quite a bit this morning. I get a coffee & log on to my computer, check my emails, write up my blog & generally surf the Internet. I am waiting for a message from my friend Donna this morning as we are meeting for coffee, she is going to message me & tell me where & when.
Donna messaged me & I go to La Zona Terezza to meet her for a coffee. We are meeting up so she can give me some tips & advice on my cruise next month. I arrive at about 11 am & get myself a coffee. Just as I look for a table Donna arrives to join me. We talk for quite a while, catching up with each other & Donna gives me some great tips on my cruise as well as showing me some great websites to look at for cruise information.
Whilst we chat I show Donna the magnetic bracelet I bought & she attempts to show me how to unclip it. Unfortunately, I can't see it well enough to put it on but Donna unclips it & puts it on my wrist for me. We are joined by our friend Jo who owns & runs the bar. After not seeing either of them for a while it is great to have a chat with them. After coaxing as much information from Donna as I can & getting some help from Jo about getting my updated COVID certificate, I head home to my apartment.
This afternoon I watch a couple of films before going to bed early but I am unable to sleep. I blame my inability to sleep on Donna, I can't stop thinking about my cruise next month & end up getting up & surfing the Internet for things to see whilst I am away. I get myself a cup of milky Horlicks in the hope it may help me sleep but it is around 4:30 am before I head back to bed.