This week started wet & stormy but got a lot better. I went out for a meal on two different days, went to a wedding & wedding reception on a third day, had time to go to see a friend singing at a local bar on another day & to top it all off Arsenal beat Spurs 3-1.
Alan Morris, 2022, week 39.
Monday, 26th September. I woke around 8 am & pottered around until it was time to go to work. I had to leave early as I had to make two trips to the recycle bins on the way. I also stopped off at Economy cash on the way to the office, I only bought a couple of things, condensed milk for my coffee & two Murciano pies for lunch later in the week.
I arrived at La Sombra at about 11:50 am & had just got a beer when Lesley arrived, shortly followed by the boss, Martin. Dave arrived a short time after & the four of us were treated to some free entertainment as there was a car crash right next to us on the main road. A red sports car pulled into a disabled-only parking space, no he wasn't disabled, & without looking if anything was coming, he opened his driver's side door. It was hit by a car going past, it was 100% the fault of the guy parking the red sports car but he insisted it wasn't his fault. We watched as they argued over whose fault it was & they filled in insurance claim forms.
If I had been the non-fault driver I would have insisted on calling the police but he was talked out of it. The guy whose fault it was moved his car out of the disabled parking spot he had parked in, just in case the police arrived. He was really upset because he now couldn't close the door of his shiny red sports car, maybe he will be more careful in the future.
When we were about to leave the office, Lesley asked me to join her & the family at Jardin III for a meal this evening. Dave said he would pick me up & drop me off after so I agreed to go. I then went home & got a couple of hours of sleep before having a shower & heading back out this evening.
Around 7:30 pm I walked to the main road where Dave picked me up. We got to the restaurant & found Martin already waiting outside for us. We had a lovely night & I ate far too much again. The people who own it must have recognised us as they were serving us garlic prawns by the dozen rather than the normal half dozen. After our meal, Dave dropped me off near my apartment & after walking the short distance home, I sat down to watch the last few minutes of the England v Germany football match. The game finishes 3 - 3 but the result does England no good as they are relegated from their division of the Nations League.
---
Tuesday, 27th September. I wake around 8 am & get myself a coffee. The sun is shining & the birds are singing but the temperature has dropped & I won't be going swimming this morning. I work on my website for a while & whilst I am working on it, I get a call from one of my neighbours about the garage door as it is jammed again. I email the company responsible for maintaining the door & give my neighbour the company's email address so she can contact them as well.
Because I can not get my disability scooter out of the garage I am unable to get to work this morning. I message Martin & let him know before going back to work on my website. At some time around lunchtime, my friend Kate knocks on my door & when I open the door she tells me to ¨get my ass in gear¨. She has come to pick me up in her car so that I can get to the office, what a great surprise. When I get to the office, Martin, Dave & Lesley are all there & are surprised to see me as Kate hadn't told them she was picking me up either. We have a couple of beers & when Kate returns, Martin, Lesley, Kate, Aria & myself head off to San Javier where we go to Yamami´s for lunch.
We have a great lunch & afterwards we go to La Zona to let Aria play. After sitting chatting for a while, Kate, Martin & Aria head home but Lesley forcibly prevented me from going & we stop at La Zona a bit longer before heading off to Roccos for a beer where we sit chatting with my friend Sandy. After a few drinks at Roccos Lesley headed off towards the taxi rank to go home & I walked down to the bottom of the road to get on the tourist train & go home.
I had sent Bob the owner of the train a message to check on times & as I had half hour to kill before the next train I stopped off to talk to my friends Jo & Katrina outside their chip shop, Pearl´s Plaice. We sit talking, listening out for the noise of the music on the tourist train that will signal it has arrived. When I check my phone I see a missed message from Bob saying they have arrived but it is 20 minutes since he sent it & I didn't hear the train either. I discovered I have my phone set not to ring after 10:30 pm, I will have to change this so that I don't miss any messages. Luckily for me, Jo has finished serving at the Chip shop & offers me a lift home. I am very grateful for this as my legs are beginning to swell up & ache.
After Jo drops me off at home I watch a bit of television before going to bed. Today was a long day, considering I thought I would be sitting at my computer all day, I have done a lot & my many friends have certainly looked after me today, thank you all.
---
Wednesday, 28th September. I woke up around 8 am today. When I have had a coffee I sit down at my computer to work & find that Windows 11 has a new version & that my computer is ready to have it installed. I go to the download site & begin downloading & updating my computer. This is going to take quite a while so I take my kindle to my balcony to read whilst the update is being done.
I check on the update throughout the day but my Internet is running slowly today & the update is not finished until sometime in the evening. It all appeared to have gone through & after restarting my computer I do a few more checks on it before then looking at the news about Hurricane Ian that is approaching the West coast of Florida, where I used to have several properties in the Sarasota, Bradenton & Tampa areas.
I go to bed this evening thinking about friends that are in the path of one of Florida´s biggest ever hurricanes.
---
Thursday, 29th September. I woke at around 5:30 am & unable to get back to sleep I get up to look for news about Hurricane Ian. It appears that the worst of it has passed right across central Florida & has weakened but it is still dropping large amounts of rain across the state. No doubt throughout the day more details of the destruction will start to appear on social media & news channels.
I am going to the wedding of my friends David & Linda today, so I will not be doing much before I go. I work on my website & get some scrambled egg on toast for a late breakfast. At 2 pm I walk to the local church where the wedding is being held, when I get there I remember that I may need a face mask for the coach trip to the reception afterwards so I walk home again to get a mask. I get a mask for myself & take another 6 in case anyone else needs one.
I get back to the Church at about 2:30 pm & find I am still the first person there, I hope I am at the correct church. Shortly after I get there more people started to arrive, the wedding is at 3:00 pm, not 2:30 pm as I thought, at least I´m not late. People gather in groups to talk or go to the bar next to the church. At 3 pm we all go into the church & the ceremony starts shortly afterwards.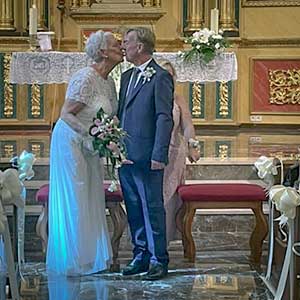 This was the first wedding I have been to in Spain & it was very nice. The Parish Church Of Our Lady of Assumption in Los Alcázares is just around the corner from my apartment, I have walked past it many times but this is the first time I have been inside. The church is beautiful inside & the wedding ceremony was very nice. The bride looked radiant & the groom's nerves didn't show at all. After the wedding the normal wedding photos were taken outside the church & whilst the bride & groom went to the beach for some more photos, the rest of us went to the bar next to the church for a small beer.
When the photos were all taken we walked around the corner to a waiting coach that took us to La Serena Golf Club for the wedding reception. I have been to weddings in many countries but I have never been to one so well organised as this. The pre-meal canapés, of which there were around 7 different ones, were fantastic & it was nice to sit outside in the sun chatting with other guests.
Beer & wine was given out to all the guests & we were told that it would be a free bar for the reception. When we went inside for the wedding meal I found my seat & was pleased to find I knew almost everyone at the table, the only person I didn't know was the lady sitting next to me, but Audrey & I soon became friends whilst she told me about her husband & farm in Scotland. The meal was fantastic, I have never had such good food at a wedding before & the service was brilliant. The staff & cooks at the golf club were very good & I would recommend this place for a wedding reception to anyone looking for a wedding reception venue.
The menu we were given had 4 starters, 3 mains & a pastry listed. I was trying to decide what to choose when they brought the first plates of food to the table, it turned out that we were to be given every item on the menu. I thought everything we were given was beautiful but I will try to give my favourite item from each section. My favourite canapé was the mussel served in the shell on top of an onion tomato & herb base. My favourite starter, unusually for me, was the salad, the flavours & different textures were beautiful & I could of quite happily taken a bowl of this salad home. My choice for the best main meal was the beef cheeks with potato, it was very tender & just melted in your mouth whilst the mashed potato & gravy it was served with was a beautiful mix. The brownie we were served afterwards was beautiful & was covered in chocolate sauce & a web of chocolate alongside vanilla ice cream.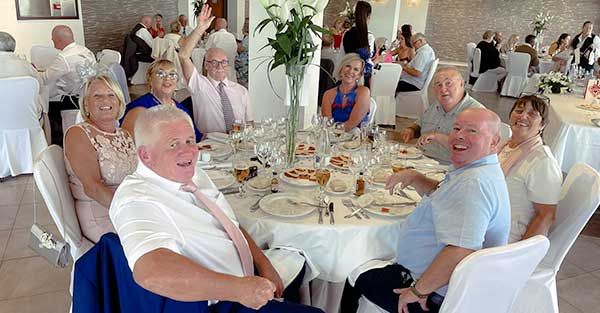 The wedding speeches were then given before the evening went into dance mode with my friend Alan Bond providing the music for the night. There was plenty of dancing & some great singing by people joining in with the karaoke, as it was a happy occasion I decided against singing & ruining everybody's evening.
At the end of the evening, I climbed back on board the coach with lots of others & was very happy when David got the bus driver to stop closer to my apartment than the allotted drop-off points so that I would not have to walk too far. My leg had swollen up quite considerably over the day, it was weeping, cramping & very sore & a light rain had just started to fall, so I was very grateful for this show of kindness on a day when David had a lot more things to worry about than my gammy leg.
When I got back to my apartment I sat with my feet raised for a while & had a cup of tea before going to bed at about 1:45 am. It had been a very long day but a really good one & I thank David & Linda for the invite to join their special day.
---
Friday, 30th September. I woke up around 8 am this morning. The swelling on my leg had gone down a bit overnight but I will take it easy today & give it time to return to more normal size.
I was expecting a delivery of shoes for the wedding yesterday but they didn't arrive. I find an apology from Amazon about the delay & I am told they will be delivered today with the pairs of trousers I had also ordered ready for my cruise next month. I work on my website until lunchtime then stopped to get something to eat.
The afternoon & evening was spent with my feet up, binge-watching a TV series called ´This Is Us´, if you haven't seen it I can highly recommend it.
My shoes do arrive this evening & fit very well, unfortunately, the trousers are too big & will have to be returned.
---
Saturday, 1st October. I woke up at about 7:45 & stripped the linen from my bed & put it into the wash. I had a coffee & then went to the Mercadona superstore to get some shopping & recycle my used coffee capsules.
After my shopping, I went to the pharmacy in Los Alcazares to get some tablets. I went along the beach promenade from the pharmacy to Chiringuito El Lobo outside my apartment. I had a coffee & tostada & then went home to rest before watching the Arsenal v Tottenham football match.
Arsenal played brilliantly & made Tottenham look terrible. The final score was 3-1 to Arsenal but there could of & maybe should have been a larger gap in the scoreline. Tottenham's only goal was again another penalty by Harry Kane, he is one of the best penalty takers in the world & has now scored 7 penalties against Arsenal in all matches. Arsenal's goals came from Thomas Partey, an absolute screamer of a goal, Gabriel Jesus & Granit Xhaka. Tottenham went down to 10 men when Emerson Royal was shown a red card for a terrible tackle on Gabriel Martinelli. The Tottenham manager made 5 substitutions, knowing the game was already lost after 70 minutes, admitting as much in an interview after the game.
This evening my friend Deeana picked me up so I could go & listen to her singing at Campbell's bar. When we get there I sat with my friends, Dave, Lesley, Viv, Kate & Aria who are there to have a meal. I hadn't heard DeeAna sing for a while & I really enjoyed the three sets she did, especially when she sang my favourite song, ´Tennessee Whiskey´ for me. After Deeana had finished singing she dropped me off at home & I rewatch Arsenal beat Tottenham before going to bed.
---
Sunday, 2nd October. I wake up in time to watch Arsenal beat Tottenham again on MOTD then have a coffee.
I do a bit of work on my computer & read my kindle before having some turkey & chips for my dinner. After eating dinner I walk along the beach to La Playa bar to watch the Manchester City v Manchester United game. City beat United 6-3 & the scoreline flattered United, City could have scored 10 or more goals they were that good. I sat with my friend Gary & his sister chatting until they left to go home & I caught the tourist train to Rio Nalon to have a beer.
At Rio Nalon, I had a beer in Harry's bar before walking along to Rocco's bar for a drink. It was quite quiet along the strip tonight so I went home early, catching the penultimate train home & going to bed.
This week was a very full week & I will need a week off to recover from it.