The last week of the year starts in a bit of pain after a bit too much walking last week. My leg is a bit swollen but apart from that, I am fine.
Alan Morris diary 2021, week 52.
Friday, December 24th. Today is Christmas Eve, as a kid, I never really got excited by Christmas & as I get older I like it even less. I believe Christmas has forgotten it is supposed to be a religious festival & has been hijacked by big companies & money making entrepreneurs who want to make money out of the less fortunate who have been force-fed advertising for things they don't really want or need, all year long.
I am not religious in a traditional sense, I don't believe in a God as I was thought to believe in one at school. I believe in a person called Jesus but I do not believe in the religious teachings that surround this figure. The most obvious discrepancy I feel is that of Jesus being portrayed as a blonde-haired, blue-eyed, man when in reality, due to his place of birth he would have had a darker complexion & brown eyes. I do believe in something, just not what modern religion, as I was taught it, tries to tell me about a God.
Religious lecture over, I do like the way that a lot of people, do go out of their way to help others at this time of the year. I did my bit by making a donation to a friend's business that feeds the homeless, I hope, that what I was able to give, will help feed a few people in the New Year. I also hope that people will realise that a lot of people dislike Christmas, for their own reasons & that many people do not experience the same joy as others because they are, too cold, too hungry, too ill or just too dam scared to worry about anything other than living. Anyway if you are reading this I hope you enjoyed Christmas with your friends, your family or in any way you chose to spend it.
On Christmas Eve at around 1:30 pm I met my friend George & Yvonne, we met for a coffee & a chat at a local Spanish bar. The Asiático coffee I had was very, very strong. I think they must have got distracted when pouring it. It is normally a strong drink, but this time it made my eyes water with the alcohol fumes coming off of it at arm's length. It did taste extremely good but I decided just to have the one as it's likely to be a long day.
When I left the café, I walked around to La Playa bar where I bumped into some friends & sat with them for a drink & a chat. I ended up staying late, drinking, chatting & listening to a singer & a couple of customers singing throughout the night. I must have walked too much this week as my leg became stiff & sore during the night & I had to rest it on a barstool in front of me.
Because of the cooler weather recently I have been wearing jeans, unfortunately for me, they do tend to make my tree trunk legs, swell up even more & it is sometimes difficult to take my jeans off when I go to bed. Tonight was a case in point, my leg was swollen & I had to sleep in my jeans until the early hours of the morning when the swelling had gone down enough for me to take them off.
---
Saturday, December 25th. When I woke my leg was still very sore & I had to take some painkillers with my coffee this morning. I spend all morning sitting in front of the TV with my feet up resting. I am due to go to La Playa bar for Christmas dinner this afternoon but by 2 pm I realise that because of the pain I am still in I will be very poor company. I send Shellie a message to tell her I won't make it for Christmas dinner then look to see what's in my freezer.
Instead of having a beautiful Christmas dinner with all the trimmings, I have defrosted, pre-cooked, microwaved ribs for my Christmas dinner. They were awful, I will have to remember not to get them again. I have eaten some strange things in China & Peru when I have been on my travels, but these would have been a perfect meal for one of Ant & Dec´s, Bush Tucker Trials.
The rest of the day was spent watching Christmas movies & doing as little as possible. This evening my neighbour Liz messages me to tell me that she noticed Father Christmas had left something attached to my front door. When I look she is right, he must know about the problems I have with my legs swelling & how cold my feet get. Santa has left me some nice new thermal socks that have little beads built into the soles so that when I walk on my marble floors they will make sure I don't slip as well as keep my feet warm. Thank you very much, Santa.
---
Sunday, December 26th. Today is Boxing day, my favourite day of the Christmas period. Yes, I know it's sad but the football is back on & this afternoon I can watch the Norwich v Arsenal match on the TV.
After getting up I have a shower, strip the bed linen from my bed & put some clothes in the washing machine. I can hear you all shouting, what are you doing washing your clothes & linen on Boxing day, but, in my opinion, Christmas isn't just about watching football that has dodged being cancelled due to COVID.
After working on my website for a while I realise that I have nothing out to eat, so I search my freezer for something to thaw out. I do find an abundance of good looking food that will thaw out quickly. I will have a tuna pie for my lunch & chicken with potatoes, peas & carrots for my tea. This is what Boxing day is all about, good food & good football. I just have to hope that Arsenal can produce good football now that I have the food covered.
I am very happy with the result of the Norwich v Arsenal game. Arsenals young team continue where they left off in the previous game, they attack quickly, defend fairly well & keep running for each other. They easily beat Norwich 0 - 5 & on another day it could have been by a few more as both Alexandre Lacazette & Gabriel Martinelli missed chances they should have scored from. Today was a bit of a goal-fest in the Premier League, there were only 6 games played but there were 28 goals scored, averaging at just under 5 goals per game, this was why so many supporters love Boxing Day football.
---
Monday, December 27th. I slept very poorly last night. Unable to get to sleep at all I got back up at around 2 am & watched another Christmas film. I did enjoy the film, it didn't make me fall asleep but I did return to bed when it finished at 4 am. I think I probably fell asleep around 4:30 before getting back up, tired & sleepy at around 8:30. I made myself a coffee, drank it whilst I checked my email & then jumped in the shower to wake myself up properly.
Today my neighbour Liz has a dental appointment in Murciá & has been told she can not drive herself home after the appointment. She had asked me to go with her so that I can drive her home after her appointment. For that reason today I will be having a trip to Murciá, all though apart from seeing the countryside on the way there I don't expect to see much. At 11:00 am I walk downstairs to Liz´s apartment & join her for our trip.
We arrive in Murciá & park not far from where Liz has to see her dentist. We walk to a pharmacy so that I can get some painkillers then continue to the dentist.
Liz went in for her appointment & I settled down in a cafe nearby with a cappuccino & some churros to eat. I had only been sat down for a short time when Liz arrived, her dentist had called in sick & she couldn't be seen. She sat down with me for a coffee & afterwards we walked back to the car. We did walk past Spiderman climbing up a building wall but he was in a hurry & couldn't stop for a chat.
Liz then drove me to IKEA so that I could look for some curtain rails & curtains for my apartment. I only priced up what I would need for my curtains, but did purchase two Christmas cacti for my balcony & some floor mats for my bathroom. When our shopping was done we returned to Los Alcázares. Liz hadn't had her dental appointment, I hadn't driven, but we had done some shopping.
My leg was aching again after a lot of walking today so I took a pain killer & spent the evening watching football on the TV.
---
Tuesday, December 28th. I am up around 9 am, still sleepy I get a coffee to wake myself up. Whilst checking my email I get a message from my friend Martin telling me that he can not make today's business meeting at the office, we cancel this weeks meeting, we will continue as normal in the New Year.
As today's business meeting has been cancelled, I surf to the IKEA website to make my purchase of new curtains and associated fittings. After yesterdays visit to the actual store, I now know what to look for & can make a more informed decision on my purchase. After lots of surfing, I decide on an olive colour curtain & decide to get them for both bedrooms Juliet balcony windows & for the main patio door leading to my balcony. Unfortunately, they can not deliver them until after the day I had arranged for them to be fitted so I will have to rearrange the fitting date.
By the time I finish the order for my curtains, it is nearly 2 pm & I still haven't been out for milk so I change out of my pyjamas & set off on my scooter to the Mercadona superstore. As I walk into the store I see my friend Martins wife walking out, she tells me that she & Martin are having a quick drink at La Zona bar opposite. I get the few bits of shopping that I need in the store & cross the road to La Zona bar. It is always awkward to get into La Zona bar in my scooter as the gates there are only ever half-open so I have to get off the scooter, open the gate fully, get back on the scooter, go inside the garden & park the scooter, then go back to the gate to close it again. I am able to do this but feel for people that would not be able to do this or for mothers with wider prams who would have to do this to get a pram through the gate. It would be much easier for disabled people if they just opened the gates fully in the mornings, I can see no reason for them not to do this. I have one drink with Martin, Kate & Aria & then we all leave to go home.
Once home, I unpack the few bits of shopping I have bought then retire to the sofa to watch films & football for the evening. My leg is going down & is not so sore this evening but I do massage it with some E45 cream which helps to heal the wounds & keep the skin from drying out.
---
Wednesday, December 29th. I woke early this morning at around 6 am. I get out of bed to get a coffee before checking my emails & getting ready to go to the foreigner's office in Murcia today to collect my TIE card. It is as I check my email that I notice that it is Wednesday not Thursday & that I have, in my still sleepy state, got up early for nothing as my appointment is tomorrow.
I drink my coffee, make a pot of camomile tea & sit back down at my computer to continue to work on my website administration. Just after 9:30 I take a break & go for a walk along the promenade to Restaurant La Encarnacion for my breakfast. I have a coffee, orange juice & a tostada whilst I read my kindle for a while. When I finish my breakfast I continue to walk along the promenade towards the military base before going to the main road through Los Alcázares to walk home. Once home I again carry on working on my website.
This afternoon I go to a new health food shop in Los Alcazares. I have seen their advert on Facebook, looked at their website & picked out a jar of honey, that I think will help me with my health. I have sent them a message & been told they re-open at 5 pm, I travel up to see them on my disability scooter & I am soon in possession of a jar of my chosen honey. The shop is only small but their website has a lot of goods on it & is easy to use. When I get home I make myself a protein shake adding some of the new honey to it. The spoon is licked clean afterwards & I am really pleased with the taste and consistency of the honey.
This evening I watch two films both with Christmas themed titles but both quite different films. The first film I watch is ´Last Train To Christmas´ which is both funny & sad. It was a very thought-provoking film & had a good ending. The second film was ´Silent Night´ a very dark film which I don't think will win many fans but is again thought-provoking, but the end is not as good & is quite predictable. I would watch the first again but would swerve the second.
---
Thursday, December 30th. I wake up at 7:45 am, make myself a coffee, check my email & then get ready for my trip to Murcia to collect my new TIE card.
I join my neighbour Liz, who is kindly taking me to Murcia, at about 10:15 am. The car journey to Murcia is easy & we arrive at the foreigner's office before my allotted appointment time. Luckily when we approach the entrance the security checks my id & waves me through, showing me which way to go. We join a queue of around 3 people & are very quickly seen. I do not have the paperwork the person behind the desk requires as I was never given it, maybe the person who did the initial application for me still has it. Luckily the man is in a good mood, he checks my passport, takes my old residents card & gives me my new TIE card. We leave & are in the car heading back to Los Alcázares 10 minutes before my actual appointment time.
When we arrive back in Los Alcázares Liz takes me to the sports centre to see if I can get my COVID booster jab. They are doing them for people over 55 years old today, without an appointment. When we arrive there is a huge queue & I decided against waiting for hours on a chance that I will get the booster jab.
I tell Liz that I will buy her dinner to say thank you for running me around today & we drive through Los Alcázares to go to the Venta Simon restaurant for the menu of the day but when we arrive it is closed until after the Spanish Christmas holiday celebrations finish. We then drive back to the apartment block & as we pass the restaurant La Casa de Papel we see that it is open. After parking the car at the apartment we walk back to the restaurant & go there for the menu of the day.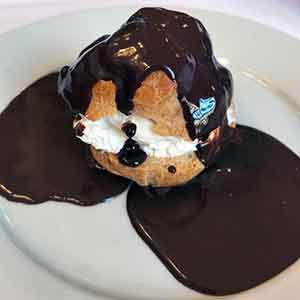 The food was excellent at La Casa de Papel, as was the service. We were quickly given a drink, I had a very nice glass of white wine. The first thing out was a small salad which was very nice. I generally only eat salad when I am out as you don't seem to be able to buy small salad bowls in the supermarkets & I hate wasting food at home. The next thing I had was a white bean & mussel stew, it was lovely & I had to dip the fresh bread in it to soak up the very tasty liquid from the iron serving bowl. My main meal was a ham & chicken crusted fillet served with homemade crisp/potatoes. This was also very good & very filling, Liz only managed to eat half of hers, being a growing lad I ate all mine up. The pudding was a single large Profiterole roll covered in melted chocolate & it finished the meal off nicely.
After the meal & after walking home I settled down in front of the television & remembered my phone beeping whilst I was in the restaurant. When I checked, it was a message on Facebook from the town hall saying that as so many people had turned up for the COVID booster jab, they would not be giving them to people without an appointment. This was annoying because earlier in the day they had posted that you didn't need an appointment. At least I hadn't waited for hours to be turned away. After eating such a big meal I was soon fast asleep, waking in time to watch some football later in the night before going to bed.
---
Friday, December 31st. When I wake this morning it is very foggy outside. I drink my coffee as the fog slowly clears outside but it is some time before the sea is visible from my apartment. I have been sent an email today saying that I will have a delivery today, it did not however say for what. It could be for the curtains I ordered from IKEA. When I made the order it did say that the delivery would be in two packages arriving on different days.
Because of the growing worry about the new variant of COVID spreading around the world, I have decided against going out to a pub to celebrate the New Year tonight. There will be too many people that have been travelling from the UK, where I believe the concern for COVID is not as great as it is anywhere else in the world. I do not feel safe about joining in any celebrations with people I do not know. If the delivery I am expecting does arrive in time, I will go out for a pint or an Asiática coffee this afternoon to celebrate & to remember many of my friends who did not survive this year.
I see the New Year arrive at home without leaving the apartment. I waited all day for a delivery that hasn't arrived. By 10:20 pm I am in bed & see the New Year in from behind closed eyelids in the land of nod.
---
2021 in summary.
I lost a few good friends & family members in 2021. My Aunt Evelyn passed away in January, my friend Graham Moss passed away in March, I found my good friend & neighbour, Russ, dead in his apartment in May. In October my friend Mark passed away & my good friend Paul Hooper passed away in hospital in the UK. My thoughts go out to the friends & family of all of these people.
I was ill later in the year & had to go to the hospital for different tests. I had all sorts of tests at the Doctors & in the hospital throughout the year & I am pleased to say nothing was found. The specialists did decide that the hernia I have had for a while could be dangerous though & took me into the hospital to operate on it. After the operation, I was unbelievably sent home less than 12 hours after being opened up, way too early in my opinion. 6 days later I had to get an ambulance back to the hospital because I was in terrific pain & the wound in my stomach was oozing fluid so much that it dripped on the floor when I moved. I was then kept in hospital for a further 11 days & the wound was opened up again, my insides were shifted around again & this time I was sown up more securely & put on a course of antibiotics. The antibiotics continued to be taken for 10 days after I was released from the hospital but thankfully I am now recovering, feel a lot better & now for the first time in a long time I have a belly button.
COVID restrictions have stopped me from going very far at all this year, but like everyone else, I have managed to get used to this new way of life. The restrictions have been there to keep me safe, I just wish more people could understand this instead of whinging about the restrictions & the people that enforce them.
After starting my 7th year of living in Los Alcázares in November, I finally ordered some curtains for my windows & hope to have them installed in January 2022. I am also planning to start enjoying my photography hobby more in 2022 & plan to start publishing more of my artwork to my website more regularly. I am looking forward to the warmer weather, now my hernia operation has healed, I hope to be able to get back to my morning swims & hopefully this year I will be able to get more use of the kayak that I bought myself last year.
Depending on the restrictions that COVID places on all of us, I also hope to get away for a holiday of some sort this year, even if it is only short trips in Spain or neighbouring European countries. I hope to get back to visit my sister in England at some point & to make a trip to Wales to see some of my extended family there whilst learning more about my family tree whilst I do my genealogy research.
Whatever 2021 has dealt you, I hope that 2022 is a kinder & more generous year to you all. To all my friends & family I leave you with these famous words from a famous traveller, Live long & Prosper.