The figures from my weigh-in are 17 stone 8lb. A loss of 1lb in my fifth week, At least it is heading in the right direction again after a couple of weeks of small gains I have a small drop in weight again.
Alan Morris diary 2021, week 6.
Friday, February 5th. I woke up & got ready for a fun-filled day ahead. I carry on tagging files in photoshop & prepare a beef stew which I then put in the slow cooker for later. My friend Reindeer arrives at about 11:30 am with the headboard he has made me from pallets to my design. He has smoothed all the wood off & finished it off with a light varnish. He brings it in & puts it in my bedroom for me, it looks absolutely brilliant & I am very pleased with it. the picture below shows it in place, although I have to put the linen back on the bed.
At 1 pm, I meet my friend, Jo, at the town hall as she has come to help translate for me when I give them the denuncia from the Guardia Civil that we got last week. I am really glad she was there as to start with no one wanted to help, if she wasn't there I wouldn't have got anything done, but she managed to tell them what we needed & they eventually took it to forward to the Traffico in Cartagena after she added an extra note to the bottom of the documents.
In the evening I tried out my beef stew, I say beef stew as it was beef stew looking but the ingredients tell a different story. I didn't have the right ingredients so I made it up as I went. It had diced beef, beans (yes they had been soaked overnight), a jar of bolognese sauce to replace tinned tomatoes that I didn't have, beef stock, beef gravy powder, oregano, chilli powder, onion, garlic, raisins & chorizo sausage in it. I left it on high for around 5 hours then I turned it down to low, added frozen peas, sweetcorn & cauliflower florets & left for another hour. It tasted fantastic, I had two portions straight away & put three more large portions in the freezer.
This evening I get a message to say my new glasses are ready for collection.
---
Saturday, February 6th. This morning I go to a Chinese shop to get a few bits for the house before going to Aldi to get some shopping for the next week or so. After getting my food I go to the Optician & collect my new glasses, I am very pleased with them, I can see to read better, they look better & fit better than my old ones. I get home in time to put all my shopping away before getting a pot of tea & sitting down to do some more photo tagging before this afternoons football.
Once again Arsenal ruins my weekend, going behind after about 80 seconds they are unable to score themselves & lose 1-0.
---
Sunday, February 7th. I start the day with a massage & a pot of tea then begin genealogy research. In the afternoon I flick between television channels watching different football & rugby games. I am pleased Wales won, it wasn't convincing but it was a good start to the Six Nations competition. Whilst watching the matches I am also doing my genealogy research & talking to my distant cousin, Jane, in Wales, via Facebook. With her help, I am able to find a few leads in the St Dogmaels area of Pembrokeshire. I end up working on the family tree until around 11 pm before I manage to pull myself away from it & go to bed.
---
Monday, February 8th. This morning I woke early & can't get back to sleep. All the information I found out about my family tree is instantly going round in my head so I get up have a massage & do a few hours of research before going out to collect the drugs I take to stop my blood from clotting. I should have got them last week & used my last ones up this morning so need some more. I walk to the pharmacy collect the drugs & then continue to walk to the military base in Los Alcazares before turning for home, walking along the promenade along the beach.
As the beef stew was such a success last week I make another one today but using pork, it is also very good but I prefer the beef one. At least I will have food in the freezer for a while when I can't be bothered to cook. Whilst in the kitchen I bring out my juicer from the cupboard, dust & clean it ready to start using again.
The walk this morning was great but I am not used to it & find myself napping all afternoon, hopefully as I step up the walking my energy reserves will start to build up.
---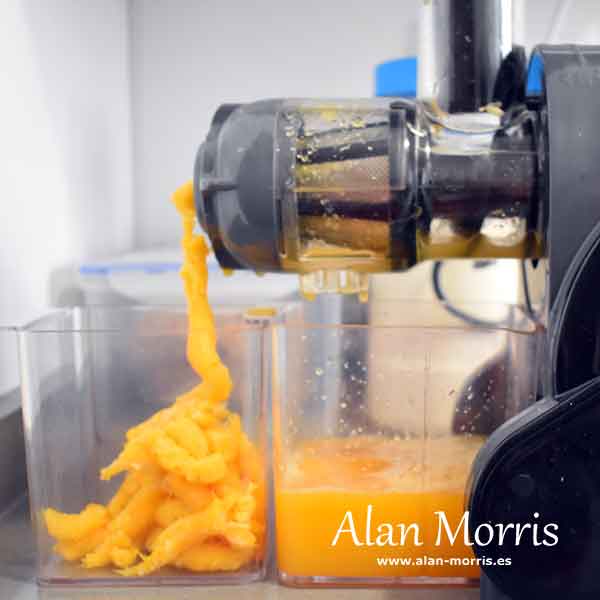 Tuesday, February 9th. After cleaning the juicer yesterday I make a trip to the Tuesday market to get different fruit for juicing. I look for oranges & apples as I already have carrots & with some cinnamon, it will be a nice drink to start off my day. I also buy two more face masks whilst there as I seem to have mislaid the ones I bought previously. On the way home from the market I stop at Bastidos Bakery & buy a meat pie, a tuna, tomato & egg pie & an apple pastry. Once home I warm up by having some of the pork stew I made yesterday & then juice the fruit I bought this morning. I make up an orange, apple, carrot & cinnamon juice & put 2 litres in the fridge to cool off. Once chilled I mix it half & half with water for a very refreshing drink which should last a couple of weeks.
---
Wednesday, February 10th. I went for a walk this morning down to the military base & stopped off at Restaurante La Encarnación for a coffee, tostada & orange juice for my breakfast. After my walk & breakfast, I did some more genealogy research before going to Rocco's bar to have a couple of beers. After not seeing anyone for ages it was lovely to see some real live human beings again, even if it was at a social distance. A couple of beers turned into a few & then a few more & I ended up getting a Chinese takeaway on my way home. It was a lovely day but I could tell I am not used to drinking anymore, I must have talked my neighbours' ears off on the way back from the bar via the Chinese, sorry Russ.
---
Thursday, February 11th. This morning I went to do some genealogy research for my cousin, Geoff, but I got a bit distracted by an email I received with some new photoshop training in it. Before I knew it, it was gone midday & I was supposed to be meeting a friend for coffee. My friend Mark also lives on his own & because of this, we are able to meet for a coffee without breaking any COVID restrictions. We have a quick coffee at Bar Corzola which is very close to my apartment before going to another Café close by for an Asiatico.
After a break of a couple of hours, it's back to the computer & the research for Geoff, somehow I manage to delete some records in the tree but luckily I do regular backups & have only lost this mornings work. I am glad I got distracted by photoshop now or I may have lost a lot of work rather than just a couple of links to census records.