Day 12 of my trip to China was spent travelling from Shanghai to Yichang & boarding our cruise ship on the Yangtze River.
Shanghai to Yichang.
Today we will be travelling all day so I make sure I have a substantial breakfast to see me through the day. Today is the day we will be doing a remake of the film Planes, Trains & Automobiles. Like all sequels we have to change the name slightly our sequel will be called, Coach, Plane, Train, Coach again & Cruise Ship.
Coach.
We board our coach this morning for our last look at Shanghai on our way to the airport. The smog still prevents us from seeing the tops of the skyscrapers.
Plane.
We board our plane & take our short flight to Wuhan. I miss breakfast on the plane as I'm still full from breakfast about an hour ago.
Train.
I have been waiting for this train journey as we will be using the Chinese bullet train for this leg of our journey. We wait at the station in a small area before being herded aboard the train by very unorganised train employees. We thought we were all going to be sat together but we find ourselves separated in twos, threes or like me, on my own split from my wife & daughter.
On boarding the train, I am very disappointed. I was expecting luxury & something special but it was just the same as any rush-hour train in England, overcrowded & dirty. Being separated from the rest of our party I decide it is time to serenade my wife. Knowing what a lousy singer I am, I whip out my hard drive, plug it into my laptop & sort out some music for her. Shortly Lionel Richie can be heard throughout our carriage singing My Endless Love. Chinese train customers wonder what Lionel is doing on the train & why they can't see him, the rest of my party all smile & my wife looks back & laughs. It could have been worse Tracy, I could have sung myself.
The train journey lasts just over two hours and we all disembark at Yichang for the next part of our journey.
Coach again.
At Yichang, we are met by another coach & board it to set off on our trip to meet our cruise ship. Before getting to the ship our driver takes us to a small local store where we can purchase emergency rations for the cruise. I buy some Melon flavour mints, my beautiful daughter Mel buys her daddy some beer, I love you daughter. We then reboard the coach for the remainder of our journey to our cruise ship.
Cruise Ship.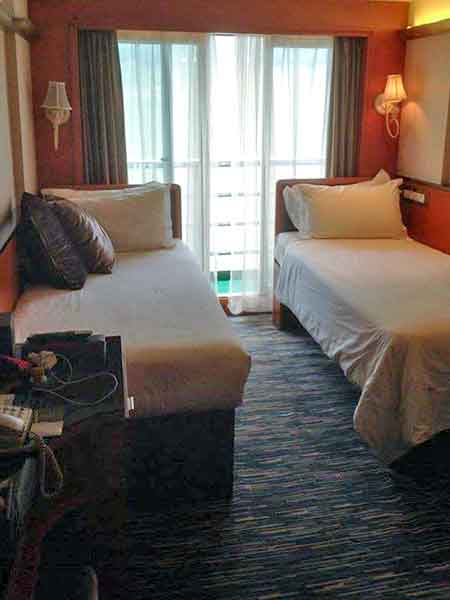 We arrive at our cruise ship & are met by a band who play us aboard the ship. We are made to feel welcome straight away & are then led across a couple of other ships to get to our ship, The Victoria Selina. We are soon in our rooms relaxing before going downstairs for a buffet dinner. At the time we are the only people on board the ship but during the night the ship will fill up with a few guests from America but primarily with Chinese passengers. Before retiring for the night I join Mike & Ewen for a cocktail at the bar, the ship seems very quiet but this will change overnight.