When I was browsing Facebook in November 2022 I saw an advert from the Los Alcázares town hall advertising a lunchtime swim that they were organising on Boxing Day 2022. I thought it looked like fun & decided to give it a go.
Boxing Day Swim 2022.
After seeing the advert for this swim, I followed the link on Facebook to the signup page & read all the details for it. It had limited space, only 120 people can sign up to do it so I signed up & paid my €5 upfront. The swim is in a marked-off area & will be no longer than 100 metres. In the warmer weather, I would average swimming 1000 metres in the Mar Menor every morning so 100 metres should be no problem, apart from the cold.
For my €5, I can go & join in the swim at Playa de Carrion in Los Alcázares at 12 pm on boxing day & when I finish I will be presented with a beach towel, a drink, some stew & some churros with chocolate to warm me up. I had absolutely no plans at all for Christmas so this gave me something to look forward to.
On the Day.
I didn't know if I would make the event yesterday as I had been feeling unwell most of the week but I felt a bit better this morning & decided to get out & have a go. At 11:30 am I got on my disability scooter & drove along the promenade to Playa El Carrion where the swim was to take place.
When I got there it was busy & there were a lot of people milling about with loud music playing. A finish line with an inflatable arch had been set up on the beach next to where I had to register. I got my participant number written on my arm, I was number 89 out of 160 & my Santa hat to wear whilst I make the swim. As I looked around I heard someone shout my name & saw my friend Dan with his mum. He hadn't registered so couldn't take part but he offered to look after my bag whilst I went in. There were a couple of other English people there that I recognised & a few different nationalities but it was predominately Spanish people.
As with anything that is organised in Spain the start time came & went but we were soon standing on the pier over the Mar Menor next to Club Nautico. Once we started all of the people involved moved in small groups onto the floating jetty to dive off, there was no going back now. I jumped in the cold water & gulped as my testicles tried to do a high jump & remove themselves from the cold water. Being a big butch man I swallowed my impulse to scream & valiantly followed the swimmers in front of me as they swam around the marker boy & back towards the beach. I have to say my body quickly became accustomed to the cold water & it didn't seem as cold as I expected it to be.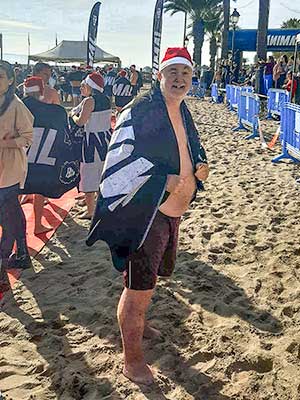 As we clambered out of the water & onto the beach we were wrapped in a large warm beach towel & ushered to one side where we were given a hot broth with a dumpling in it & a can of beer. It had only taken a very short time but I did feel exhilarated & was very pleased that I had made the effort to register & come along & do it. I am already looking forward to next year.
I found my friend Dan who had taken a video of everyone jumping into the water & the short swim. I finished my food & got a promise from Dan that he would take part next year. I got my bag from him & then headed home via the churro van where I was given free churros & some hot chocolate to dip them in.